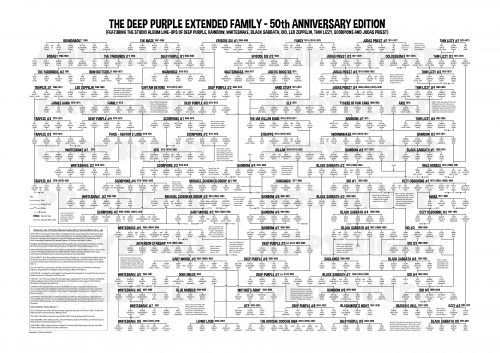 Glenn Wellard sent us his version of the Deep Purple Family Tree together with the following note:
Being a fan myself, and this year being the 50th year since Deep Purple were formed, I decided I wanted to do something to mark the occasion and produce something to hand on my own study wall. So, for the last few months I've been working on a super huge family tree of band member connections with other major UK bands. It contains 50 different bands within it (I thought that was a nice number to reach for a 50th anniversary!), with the core of it, of course, being Deep Purple members. I've called it the Deep Purple Extended Family (as they are considered to be one of the catalyst for a lot of the rock bands that came after them). I've now completed the project, and a print of it is hanging proudly on my study wall. However, I've decided it would be a shame to keep the poster to myself, so I am sending a high definition converted JPEG copy of it to various parties out there that might be interested to have a look at, comment on, display on websites, etc, on a permission basis, whilst retaining copyright over hard copy prints.

It's been a complex and pretty frustrating project at times, which has taken a lot of effort to make it as accurate as possible. As the tree has got bigger, the options of branches that can be included get exponentially bigger (!) and so it becomes harder to decide what to include and leave out, as well as the connections between artists getting more complicated. So I have tried to include those branches and connections that seemed most relevant to me.

I have also listed the poster on eBay (it can be found by searching Deep Purple Poster) in case people want to buy a large high quality printed copy. So, the only thing I have done to it to protect myself on the copy I am sending out digitally, is to add a faint copyright watermark, which does not detract from being able to view the detail of it online. On eBay I've restricted sales to the UK, mainly because I'm not sure what the postal cost to send to the USA would be. But if there was interest from over the pond there, I'm sure I could figure this out!
Click on the image above to view a full size version (warning: it's HUGE!)