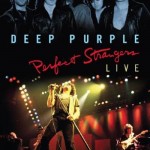 This was posted in our comments section elsewhere on the site. We decided to edit it an promote to a standalone post, so you can post your own impressions of the DVD in the comments.
---
I received the Japanese DVD of this show 2 or 3 weeks ago. Black Night should be familiar to most people here as it was on the Deep Purple – New, Live & Rare, The Video Collection (1984-2000) DVD.
First impressions that stand out, (good and bad): being a Huge RB Fan, Under the Gun is VERY inspired from a guitar standpoint! (My fave Track on the DVD). (Judging from IG's reaction at the end, his as well!) I had to watch that 3 or 4 times! That song was also IG's fave on the Paris 85′ DVD as well, prompting him to say: "Nice One Blackers"!
Lazy is played so fast that it sounds like RB wanted to get it over with… not impressed.
Strange Kind of Woman has RB and IG smiling back and forth and trading licks with very good natured attitudes that makes you think they were the best of friends during this time together.
Ritchie Blackmore's Solo at he end of Space Truckin' is filmed well but is the worst excuse for a solo I have EVER seen RB perform. What ever effect he used during this era sucks. It sounds like a panning stereo effect that is missing one speaker!
Speed King is my second fave track to watch. Trading licks between RB, JL, and IG. Great when one would play a motif and the other would finish it! Had me laughing as the skill and off the cuff humor in the runs is infectious!
Smoke actually sounds fresh…a good version. Sometimes I do not think I want to hear it played live ever again. I was pleasantly surprised by this version.
Once again, being a HUGE RB Fan, this period of his playing is probably a low point in his career for me personally. It is like he is trying way too hard to be flashy and play fast. He is not giving the notes room to breath, let alone choosing them as carefully as we KNOW he is more than capable of doing! For an example of this, compare this show with the new Rainbow Black Masquerade DVD… which showcases his speed, sexterity and FEEL!
The Japanese DVD Version of Perfect Strangers Live has a bonus track of Highway Star from December 13th and I was expecting an audience shot Track. Not the case at all as it is the same quality as the main show featured here. Maybe a release is possible of the December 13th Sydney show? I for one would buy it!
Scott W.