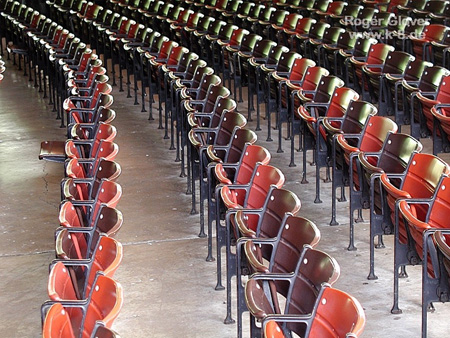 No One Came, photo by Roger Glover – see more of Roger's artwork
On October 22, Roger Glover's artwork exhibition opened at the K-8 e.V. Galerie in Cologne. Throngs of people clustered in front of the gallery, all of them fans who wanted to meet the artist in person and to honour him. It was so crowded in the gallery, that any getting through was impossible.
Roger Glover's exhibition is something very special. Previously he has let many of his pictures be auctioned in other galleries for good purposes, but this is his first own big presentation.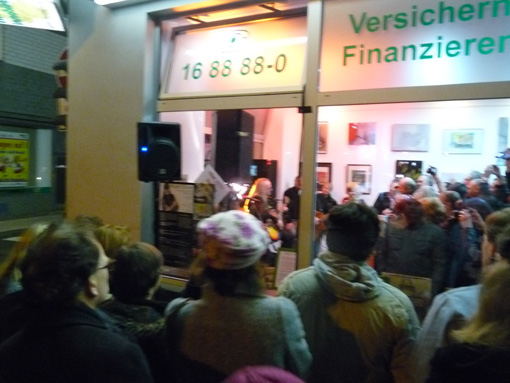 From outside, you could glimpse through the windows at the inside and the acoustic rock ballads band Krysmah (www.krysmah.de). Detlef Kornrath and Frank Nerger fulfilled the musical part and with their wonderfully played and sung ballads from the Purple family, they provided a great mood, and I was very happy to see and hear them again.
During "Smoke on the Water" Roger was asked by Krysmah to join in, which he of course, willingly did. In the gallery room that was filled to the bursting point, the patrons started to rave with enthusiasm, there was a wonderful, exuberant mood among Roger Glover's superb pictures and photographs.
Roger Glover himself gave (as always) everybody his best attention. He never grew tired of signing and chatting. Of course, many fans gave a more than happy impression, almost beguiled by his charm. Only about two hours later the rooms emptied a bit more, and thus gave me the occasion to admire Roger Glover's magnificent pictures.
All objects with the exception of the paintings – high-quality prints – are presented in original. It is possible to buy the limited and signed objects. 100% of the amount realised will go to charitable and beneficial institutions, especially selected by him.
My absolute favourite is "Happy Silence", it exudes such a calmness, is incredibly well painted in terms of technique, and is a very individual painting. All of Glover's paintings present an excellent technique, a very versatile skill and many styles, from abstract to naturalistic.
In 2006 I exhibited my Deep Purple paintings at the K-8 gallery Kulturförderkreis K-8 e.V. Köln. The biggest appreciation of my life was when Roger Glover visited my exhibition.
I bow before him and will certainly use some suggestions for my own paintings. What makes his photographs so interesting is his good eye for details. Tiny things like contours of sand or indentations in a wall, reflexions and distorted surfaces are adorning the gallery's walls.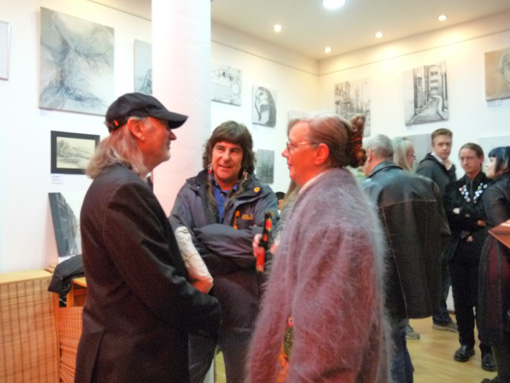 I managed to take a picture of prominent visitor percussionist Mario Argandona (above center). He did percussions with Jon Lord during his "Beyond the Notes" tour and, if I remember correctly, also during Deep Purple's Concerto tour in 1999.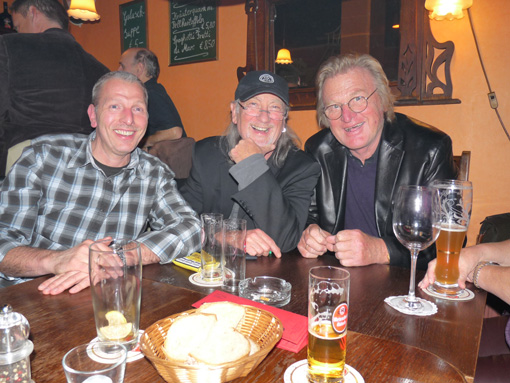 Photographer's meeting: Manfred Stoffer, Roger Glover, Didi Zill
Deep Purple photographer Didi Zill and wife were also prominent admirers of Roger's exhibition.
For me it was an incomparably fine evening with friends and with Roger, who chatted with me totally relaxed after the exhibition in a nearby pub. A great honour as always, not only because Roger is such a magnificent, versatile artist (painter, photographer, lyricist, songwriter, musician, producer), but also because he is by personality incredibly open, friendly and charming.
One of the visitors was Andree Schneider, boss of band Demon's Eye and fansite The Aviator, Jens from Planet Purple and Manfred Stoffer, great photographer of Deep Purple, Michael Höllen, Karl-Heinz, all of them also visitors of my exhibition at that time, and of course Ralf Schmid, organiser and gallery owner of this exhibition. It was truly great to see all of them again, and to chat a couple of sentences now and then.
Best wishes,
Evi Ivan (Madame Butterfly)
With many thanks to Monika Schwarz (German->English translator)