Can you forget a Deep Purple show which starting with snaring drums of Highway Star? No. No. No. Thousands of NO as Istanbul screamed last night.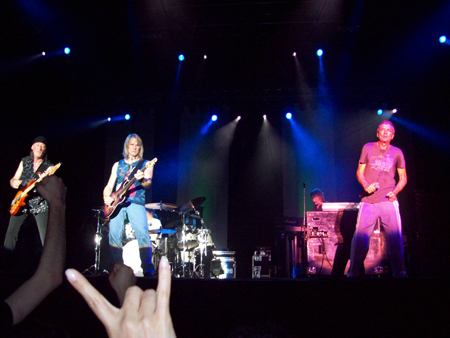 Venue opened at 20:00, lights off at 21:00 by the lovely seaside of Bosphorus, quite warm evening, with a considerable high humidity, the show started with a different intro that we hadn't heard before (except the bootlegers for sure). Then came Highway Star. Do you need anything else? What else do you need for a review?
I was finished then. We were finished then.
According to the paper I grabbed from a stage crew the setlist was like that: No drums solo by the way. (Mr. Ian Paice left the backstage earlier than the other guys.)
01. Highway Star
02. Things I Never Said
03. Wrong Man
04. Strange Kind Of Woman
05. Rapture Of The Deep
06. Fireball
07. Contact Lost guitar solo
08. Sometimes I Feel Like Screaming guitar solo
09. The Well Dressed Guitar
10. Wring That Neck
11. The Battle Rages On
12. Keyboard Solo
13. Perfect Strangers
14. Space Truckin'
15. Smoke On The Water
Encore
16. Hush
17. Black Night
Sound was not balanced in front of the stage during the entire concert, we've heard bass and drums very clearly, guitars and keyboards (except the solos) and vocals were not clear. But who cares? Highway Stars are on stage, man!
Mr. Roger Glover was shiny, contributed more and very interactive during the show. Really highlighted.
Drums. Mr. Thunder. Words are not enough for Mr. Ian Paice. We wish he hadn't been ill.
We were lucky to enter the backstage and spent some 2-3 hours inside, photo session, autograph session, again photo, then drink and eat. All the guys and production crew were so nice to the audiences, except Mr. Ian Paice most of the time stayed at the room. I wish them a quick recovery.
Mrs. Sally Day, PA of Mr. Gillan, aprooached me, introduced herself, took my t-shirt's photo and admitted that their main source is still www.thehighwaystar.com. Thank youuuuuu thehighwaystar.com. Long live.
T-shirt? Yes, it is the one: "Gillan: I heared we\'re playing Ouagadougou this winter. Lord: Have you checked it on The Highway Star?" My 10 years old mint t-shirt, which was XXL that I could find when I was only L back in 99 something. I am happy to get fatty and found the chance to wear that t-shirt and autographed by Deep Purple. Everybody loved that.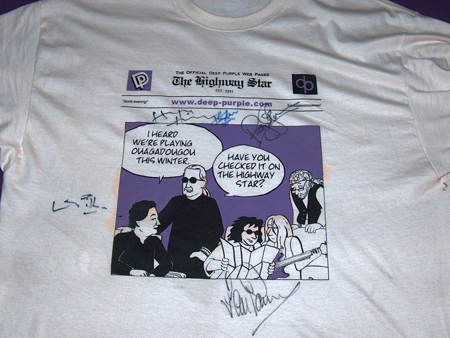 We had so much fun yesterday and as Mr. Glover said, Deep Purple is lucky since we still were there and as I said we are lucky since Deep Purple is still touring. We are looking forward the next tour.
Next tour is definitely necessary, because Mr. Gillan promised me and Mrs. Sally Day confirmed to put my 5 year old son to the side stage that the venue is age restricted yesterday.
OK, roll on.
Show and backstage shots from my buddies Tarik Burcoglu, Devrim Sahin and Mr. Korhan – go to gallery: