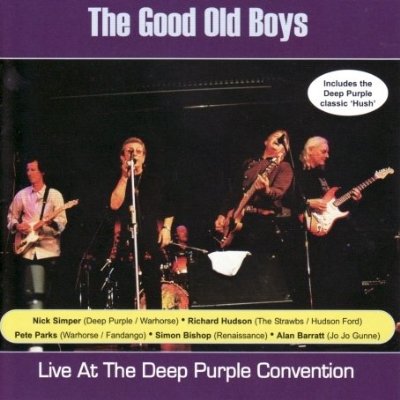 The Good Old Boys' live set performed at the Deep Purple convention in May 2008 is now out on CD, released on July 13 by Wymer Records.
Axel Dauer shares his thoughts:
The long time overdue release

Dear Purple bunch, may I point your attention to this: finally, the Good Old Boys have released an official Live CD.

They were playing the Deep Purple Convention on May 3rd, 2008, as THS reported, and that gig was — fortunately for all of us — captured on CD. What a smart move since this was one brilliant show. For those of you who are expecting something like a DP tribute band, please don't read on.

Nick Simper is having way more class than that (unlike a certain Rod E. with his 1980 Purple bogus). This man has no need to rest on his past merits. He does still have the chops. Neither do his bandmates have any reason to hide their individual talents behind the "big name" of Deep Purple. Every single one of them is a true master of his instrument (so is Alan with his voice) and as a band they're tighter than a bull's ass.

I've seen these guys live several times and every single time I was blown away by their performance. Now, with this release, all of you are in a great position to experience them, too. What a treat! The CD (like their shows) is starting rather "shy", but it's increasing and increasing until they're reaching the state of pure power and fun. These guys are top of the notch regarding handmade, honest Rock'n'Roll, always surprising the listener with another individual icing on the cake. Most of their material is based back in the early 60s. Their music has nothing to do with Deep Purple. I do understand that they felt obliged to play at least one DP song at this show (Hush) — since this was a DP convention after all — but I'm pretty confident that Nick could have easily given up on that and his arm needed to be twisted hard to do that.

So, if you're just going for another DP tribute CD, stay away from this. But if you want to hear finest Rock'n'Roll, performed by some of the best musicians around, you don't wanna miss this on your shelf. This band does indeed know how to ROCK!!!
The album can be ordered through Amazon UK or directly at the Wymer online store.