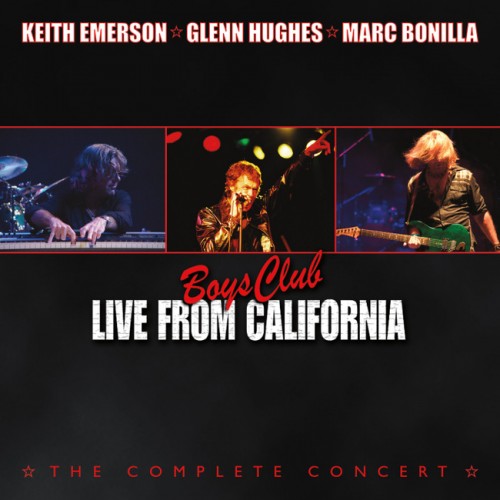 Back in 1998 Glenn Hughes appeared as a guest vocalist at three shows of the Marc Bonilla & Friends project, which also featured guest appearances of Keith Emerson. Now Varese Records is releasing a double CD set from these concerts billed as Keith Emerson, Glenn Hughes, & Marc Bonilla — The Boys Club: Live From California, The Complete Concert, which is due on September 3.
Track list
Disc 1
Afterburner
Long Journey Home
Hoedown
Whiter Shade Of Pale *
Cover Me *
Close To Home
Creole Dance
Honky Tonk Train Blues
White Noise
Nutrocker
Disc 2
Tarkus
Fanfare For The Common Man / Rondo
Dreams *
Middle Of A Dream *
Keith Emerson: keyboards
Glenn Hughes: vocals (*)
Marc Bonilla: guitar
Mark Bonilla's band:
Mick Mahan: bass
Joe Travers: drums
Ed Roth: keyboards
Mike Wallace: guitar
Bob Birch: bass
The press release does not mention when exactly this was recorded, but Glenn's tourography states that the three concerts in question (albeit with none of the setlists matching the tracklisting exactly) took place on:
January 17, 1998 — Billboard Live, West Hollywood, CA
May 14, 1998 — Palookaville, Santa Cruz, CA
May 15, 1998 — Maritime Hall, San Francisco, CA
Most likely, this is the West Hollywood performance on January 17 (sans Black Box, Town Without Pity and Rock Candy with Ronnie Montrose guesting) as it was the only one where Middle Of A Dream was performed.
Thanks to BraveWords for the info.