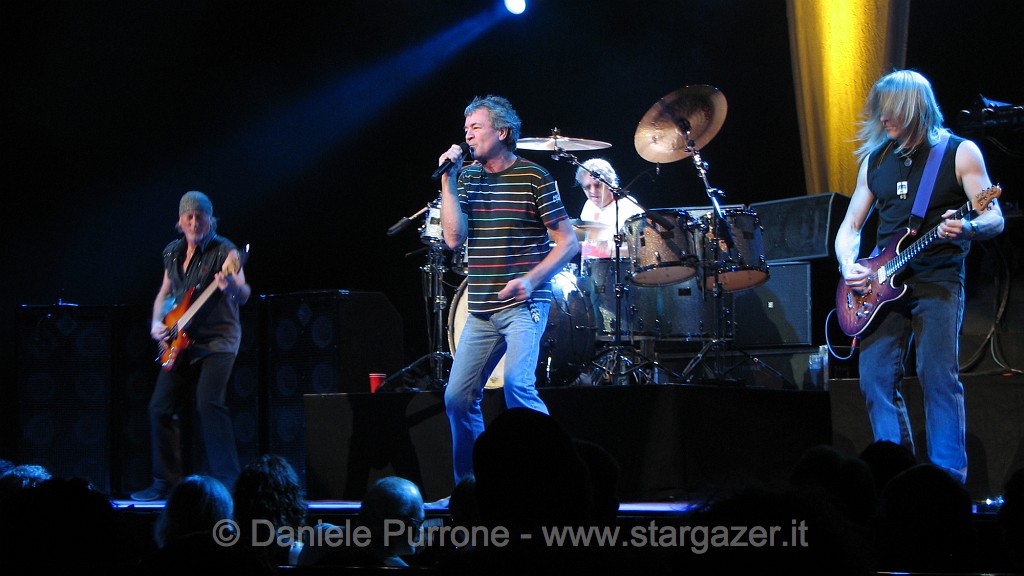 See all of Daniele Purrone's photos.
New York: I had bought a pair of tix to the show during the pre-sale before I knew if my buddy could go and as it turned out, he couldn't. So, standing in front of the arena 2 1/2 hours before the show to sell my ticket, I got lucky as there was someone standing there who needed just one ticket.
We headed down to Friday's for some beer and transact the deal. We talked for a few hours and then headed into the show. Truthfully, I was THRILLED that Vanilla Fudge replaced Thin Lizzy. I had seen TL several times over the years and was never truly impressed.
But this was the first time I would see VF and knew they would obviously play "You Keep Me Hanging On," which, of course, they did as the set closer (and even made a comment, "And now the song that brought everyone in to the house.") A cool surprise was the opener, the Zombies cover, "She's Not There." All in all, I was quite impressed w/VF and very happy I got to see them before they start being worm food.
I already knew the DP set list from the net so I was not surprised at what they played. How they played it, is another story. The last time I saw DP was in 1996 at the Beacon (then I actually won tix on Q104 before they got popular – I was the 13th caller and then called back to be the winning 25th). This show was SO much better than 96.
With the exception of Burn (which my older by 10 years brother gave me a lifetime ago), Perfect Strangers is my favorite DP album. So, hearing Knocking and Perfect Strangers was a real treat. I was silently praying that my new found friend wouldn't talk to me during Perfect Strangers (as he was getting drunker and drunker all night and talking during every song) so I could sing the words to myself.
But, alas, he did… And maybe it was the distraction, maybe it was that strange odor coming from the people on either side of us and behind us or maybe I'm wrong, but I believe they screwed up on the lyrics and sang: "your tears are lost in Falling rain" instead of "I am the echo of your past."
But, other than the non band related distractions, the show was AMAZING. They were very tight, full of energy and really seemed to enjoy themselves up there. Being a closet Deadhead, I know the feeling when the band and the fans feed off each other's energy and help produce magical musical moments… Of course, I couldn't wait to tell my buddy what an amazing show he missed…
Now all I need to make me complete is to see Blackmore doing ANYTHING other than the medieval music he is doing now… Come on Richie – do a tour w/ Dio again… Please???
Computorney Writer