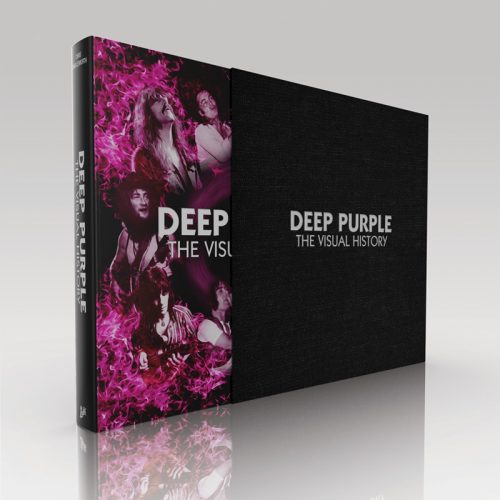 RAMzine has a preview of the updated edition of Illustrated Biography, listed by the publisher as slated for shipping in September/October 2023. The book is now called Deep Purple – The Visual History 1968-76.
Unlike many other similar books about bands of this stature, this isn't just a collection of pictures. The contents are divided up under a series of headings from Deep Purple's inception in 1968, examining every 'mark' stage up to 1976, including albums and personnel, and incorporating comments from and details of everyone who played in Purple in this period, including how they joined the band, plus details of short-lived members like Nick Simper and Rod Evans. Ritchie Blackmore gets a 30-page spread and, if you look closely, you'll even see him smiling in one of the pictures. The book's mostly factual, with Charlesworth rarely incorporating his own views about whether a line-up change had improved or detracted from the band. Nonetheless, this is still an interesting read with a few surprising little nuggets of information … Rod Stewart, when with the Jeff Beck Group, being looked at as a possible frontman when the band's being put together in '68? Glenn Hughes approached to join the embryonic ELO before joining Purple?… and for Purple fans young and old, there's something here for you all to enjoy, not because the book is amazingly brilliant or rammed with controversial comments, but because it's an enjoyable trawl through the first eight years of a remarkable band. It's a safe bet their story from 1984 onwards will be nothing like as exciting a ride as their '68-76 period.
Read more in RAMzine.