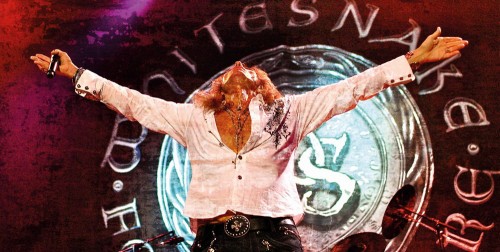 David Coverdale spoke to the Metal Edge magazine, mostly about the '87 self-titled Whitesnake album.
Coming out of Deep Purple, what was your vision for Whitesnake? And how have you expanded on that since the '70s?

David Coverdale: It's a buffet of all the sounds that I love. Some of the arrangements are symphonic because I adore classical music. You might not realize it, but concertos with three movements resemble a typical pop scenario. And having said that, I've always wanted Whitesnake to be like an orchestra. I never wanted it to be just one or two guitar players; I wanted an ensemble of people to facilitate the buffet of sounds I wanted to create.

You can work with great guitarists all day, can't you? And, of course, I have. Just look at Jeff Beck, who could play amazing blues, but chose to make the guitar his own via his own identity. Jimi Hendrix and Edward Van Halen did so much with the guitar; I can't imagine anyone doing what they did. So, I always sought to go after different sounds, and everyone who has been a part of Whitesnake has had their own identity and added that into the mix. It's like, "Oh, here's a nice six-pack of beer; I'll have some of that," or "Ah, some cheesecake; I'll take some of that, too."
Continue reading in Metal Edge.
Thanks to BraveWords for the info.