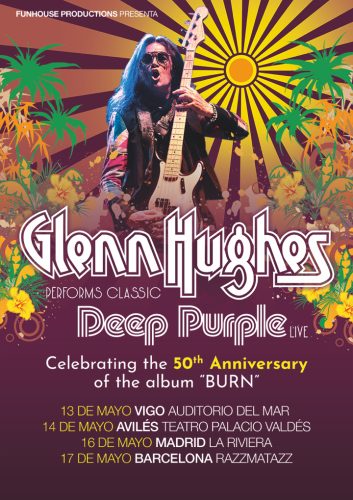 Glenn Hughes is celebrating the 50th anniversary of Burn with a string of dates in Portugal and Spain this May. He will be performing the album (apparently, in its entirety), as well as other Mk3 and Mk4 numbers. His band will consist of Søren Andersen (guitar), Ash Sheehan (drums) and Bob Fridzema (keyboards).
It was 50 years ago, in the Summer of 1973, that the BURN album by Deep Purple was written at Clearwell castle in The Forrest of Dean, Gloucestershire
It was recorded in October 1973 in Montreux, Switzerland.
We all became one in this centuries old castle in the UK countryside, it felt like Deep Purple were a new band, with David (Coverdale) and I as new members, we couldn't wait to start working on new songs. The atmosphere was electric, in such amazing surroundings.

All the songs on BURN were written in the crypt/dungeon, underneath the great hall. We worked on a new song every day, and we were in the flow. Musically we would play, and work out ideas, and David and I would come up with vocal melodies that would later have lyrics. I remember it like it was yesterday.

As you could imagine, Ritchie Blackmore was in full prankster mode, Jon had warned me, and he rigged my room one night with a speaker that was hidden, and had ghostly voices delivered to my bedside.

The title track was the last song to be written. We came back from the pub, and went down into the crypt, and magic happened.
It's time to celebrate BURN, and I'm really looking forward to seeing you.
Further details in our calendar.