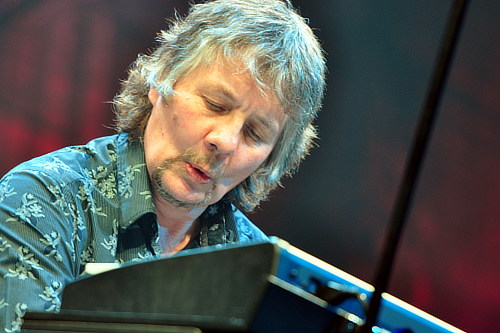 Don Airey was interviewed for the Rolling Stone Unknown Legends series. It's a long form interview, with a lot of ground covered — from the humble beginnings in a cruise ship house band to the next Purple gigs, once again on a cruise ship. And everything in between.
So how did the Rainbow period start?

I got a phone call from Cozy Powell. They'd phoned me twice before and I was always leaving on a tour or something. I could never go and audition. But Cozy said, "Airey, get your ass over to New York tomorrow." And when the boss speaks, you do what you're told. He met me when I got off the plane at JFK and took me to a hotel in Connecticut. Next day, they took me to meet Ritchie [Blackmore].

He said to me, "Do you like Bach?" I said, "Yeah." He gave me a piece of Bach to read, which I kind of knew, but I pretended I'd never seen it before, so he thought I was sight-reading it. We played it together. I forget what piece of Bach it was, but we kind of rocked it up together. And then he said to me, "Do you know Beethoven's Ninth?" I said I did. We worked on the song that became "Difficult to Cure." That was kind of my audition with the band. And then I went into rehearsals with them. It was just me and Cozy and Ritchie, just the three of us, in the middle of winter.
Read more in Rolling Stone.