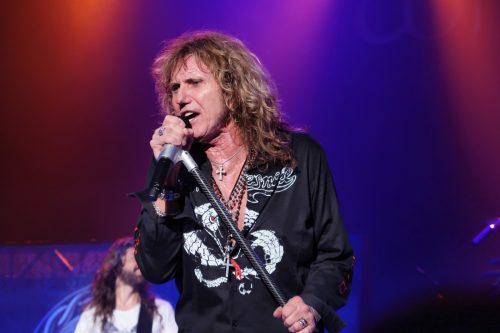 A lengthy interview with david Coverdale in the Antihero magazine provides a nice distraction certain criminal activities going on around us.
Antihero Magazine: Taking you back, what would've been the first music that you remember hearing?

David Coverdale: Oh, the first influential song? It's so interesting, after losing my mom some years ago, I was talking to my aunty who I adore, and I've lost her sadly. But she was a teenager at 14 when I was six. She and her brother Eddie, but much more Sylvia, they'd spend their own pocket money, their allowance, on singles. And I remember she had an EP, and I'd touch these tunes like they were religious objects or something sacred. I have no idea, but I could feel the energy, and it was a huge old gramophone, enormous, where you literally had to put the needle into the arm, and then very slowly and delicately put it on the record. She said, "You can play my records, but don't scratch them." So, I was ridiculously careful.

And hearing the song Jailhouse Rock was just a life-changer, Elvis Presley and Jailhouse Rock. Then she introduced me to Little Richard, Chuck Berry. I was only a kid, but the music was so… the same reason as Hendrix is my muse. I know musically, and through my awareness magnet, all the elements that he would connect together to be Jimi Hendrix, to play and like his music. But I have no idea why I was so connected so immediately, and so electrifiably with him. That's the mystery, the magic of music. But look, I can hear a song from Revolver, and I'm immediately 15 years old in Saltburn-by-the-Sea with a beautiful blond girlfriend. I can hear certain songs and they're time capsules of where I was, who I was with, friends.
Read more in Antihero.
Thanks to BraveWords for the info.