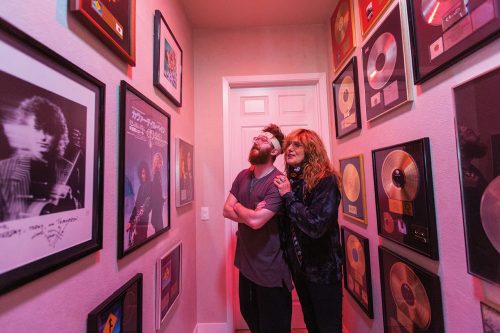 David Coverdale's local Tahoe Quarterly has a piece on him, his family, and their mansion in Incline Village that they had recently put on the market. It was published in the Winter 2019-2020 edition, which was out some time in November 2019.
Born in a seaside town in North Yorkshire, England, Coverdale moved to the Nevada side of Lake Tahoe—as a "tax exile," he says—during the height of his fame in 1987. In between world tours in 1990, he met his future wife, Cindy, when they were both getting haircuts at a small salon in Reno called Lookin' Good.

"It was my worst haircut since my father used to cut my hair," Coverdale says with a laugh. "But behind me was this beautiful woman, and when she left, the owner was forthcoming with who she was and where she worked and that was it—that was 30 years ago."

David and Cindy married in 1997 and went on to raise a son, Jasper, in the serene natural sanctuary that is Incline Village. Nestled among boulders and mature trees high above Lake Tahoe's blue expanse, the Coverdale Estate boasts more than 9,000 square feet of living space along with panoramic views and privacy on a gated acre-plus of prime land.
Read more in Tahoe Quarterly.
Thanks to Yvonne for the info.