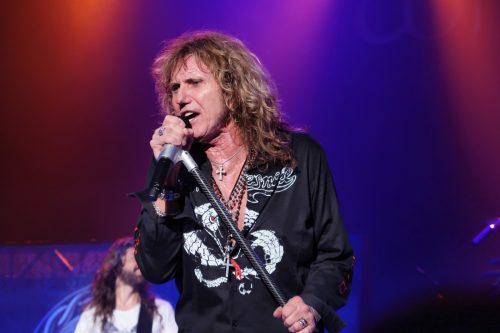 In his recent interview with Planet Rock radio David Coverdale doubles down on his decision to retire after the next tour:
Last year we were supposed to do what was going to be my farewell tour, and it was sold out and it was amazing. Of course, everything was cancelled to Covid. So, God willing, I'll be able to do it hopefully next year.
With the interviewer expressing some reasonable skepticism, citing other bands' farewell tours only to come back, DC insisted:
Mine's going to be the farewell tour because I'm knocking on 70's door. Are you kidding?! It's hard enough now to get into my jeans!
I'll be still involved in music. We've got a relatively long-term deal with Warner's. We have a poop load of projects to do under the Whitesnake banner, it's just the touring. It's not the performance so much that is exhausting, it's the touring and I can't tour any more comfortably than I do.
There are some more bits and pieces of the interview on the Planet Rock website.
Last year Coverdale had already announced his imminent retirement, only to backtrack a week later.
Thanks to Blabbermouth for the heads up.