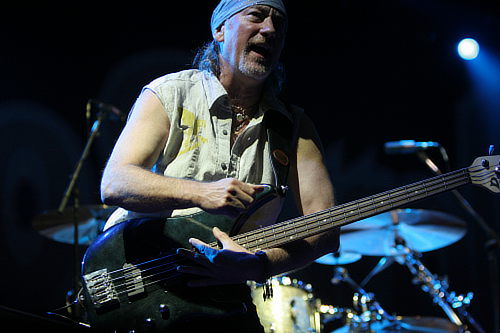 No Treble, a website dedicated to all things bass, has a fresh interview with Roger Glover. They talked about time off the road (Roger confirmed that he resumed working on his memoirs), chart success of Whoosh!, Bob Ezrin and the band's songwriting revival of late, progressive influences on the album, luck and work ethic, never getting tired of playing Smoke, advice to young players, and enjoying one's sandwiches, among other things.
Getting back to the record, you remade "And The Address" from Deep Purple's debut album. Why that song in particular?

Since we've worked with Bob, we've made a habit of doing a cover on every album. Although it wasn't fully spoken about, there was an assumption that this probably is our last album. We felt that about the one before this and the one before that, as well. We never know which is going to be our last album, but there is a feeling that we're pushing it now.

Bob said, "Wouldn't it be fun if the very first track on the very first Deep Purple album was the last track on the last Deep Purple album?" It's a nice closing of the circle, if you like, so that's why we did it. But maybe it was a bit premature because I think now that we can't tour, we might as well make another record.

Seems like you have another one in you, for sure.

All we have to do is figure out where to go and how to get there. We live in different parts of the world and traveling is pretty constrictive.

I know after inFinite, you said you were ready to make another album right away. Is that how you feel now?

You know, I don't know how we feel. I feel very up for doing another album. We've all agreed to do it, so it's just a question of sorting it out. Where and when and how. We don't talk about albums. When we're on the road and traveling together, we don't talk about writing songs for an album. We don't write songs. We just jam and they appear.
Read more in No Treble.
Thanks to Jim Collins for the info, and kudos to No Treble for getting the photo credits right.