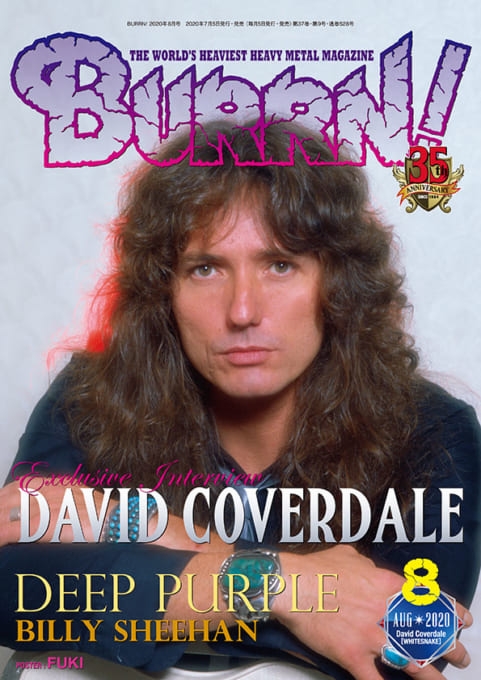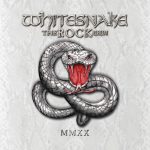 The August 2020 issue of the Japanese Burrn! magazine (the one that has an extensive feature on Deep Purple's new album) actually has David Coverdale as the cover story. The 10-page interview inside promotes Whitesnake's latest release — The Rock Album compilation. Our Japanese correspondent Akemi Ono translated the more interesting tidbits from the article back into English and offered them here for your attention (for which we are extremely grateful).
---
Burrn! August 2020 Edition
David Coverdale exclusive interview
(10 pages including photographs)
Interviewer: Kaz Hirose, editor
Whitesnake have released The Rock Album, the first part of the Red, White and Blues trilogy. The Rock Album includes songs from Whitesnake and solo studio albums released between 1984 and 2011, as well as one previously unreleased song. All previously released tracks are remixed and remastered.
Burrn!: How did you come up with the idea of the trilogy?
David Coverdale: I have always felt that past releases lacked consistency, except for my vocals. I wanted to find someone like George Martin for the Beatles. Then I met Chris Collier. Chris worked on Flesh & Blood, and we hit it off immediately. I told him about my ambition, and he agreed to take it on. He remixed everything in the catalog that I had ownership to, from Slide it In onwards. With his skills, the past songs all sound like a band with one identity. With the Rock Album, you get a taste of future Whitesnake box sets.
B: Why are you only doing albums after 1984?
DC: I do not have the right to do anything for albums before 1984, as the previous managers have ownership. The contract was terrible. Just last year, I was able to buy my rights for the first 2 solo albums, Whitesnake (1977) and Northwinds (1978). It took many years to do this.
B: The previously unreleased song, Always the Same is wonderful. When did you write it, and with who?
DC: With Joel Hoekstra. I had the basic idea even before Slip of the Tongue (1989). I played it on the piano while recording Flesh and Blood. Joel liked it and worked on it, but it didn't make it into Flesh and Blood, because the record company did not evaluate it fairly. I am glad that I was able to put in one song from our current band.
B: Tell us about how you remixed, rearranged the songs. How about Still of the Night? The original is from 1987, and it was remastered in 2017.
DC: This completely different from the 2017 remastering. There were many guitar tracks that Keith Olsen (producer) did not use, so Chris and I resurrected them and created a new ending as well. I love it. It's like the original with a new paint. Looking for Love, Crying in the Rain will go into the next album in the trilogy, The Blues Album.
B: How about Give me All Your Love?
DC: This is a super song that everyone loves during live shows. Keith Olsen (unfortunately deceased) mixed it to suit FM radios, for bands like Foreigner, Fleetwood Mac, Stevie Nicks, but the flashy keyboard really did not work well with me. If it were up to Jon Lord and me, we would have not done it like Keith. It was very 80's with a lot of echo on the keyboards and snare drums and the guitars as well. In the new album, you can hear Jon Sykes' guitar very clearly.
B: I think Here I Go Again is wonderful, with the vocals more in the foreground.
DC: Christopher Collier is a Whitesnake fan, and he can hear all the layered sounds, what is in the foreground, and what is in the back. He also works very quickly. For the vocals, the original take was used. This song includes Jon playing the grand piano beautifully, although you could barely hear it in the original.
B: What is the thought behind starting from Still of the Night and ending with Forevermore in this album?
DC: I always keep the same setup as live shows, like starting with 2 hard rock songs, then take a breather with Love Ain't No Stranger, then then go back to work…. This is The Rock Album, after all. The most moving parts of the album are the Here I Go Again, Judgment Day, Always the Same, Forevermore. But each song, not only these, has a sudden explosion into epic rock.
B: Please give us a message to our readers.
DC: 2023 would be 50 years since Burn was recorded. I am praying that vaccines are created and people can live without fear. I am praying that I can keep healthy and do a farewell tour. Thank you for caring for us for the past 40, 50 years!!
---
The article also includes a special survey:
Tell us your 5 top David Coverdale songs
Kaz Hirose (Burrn! editor)
Don't Fade Away
We Wish You Well
Soldier of Fortune
Take Me for a Little While
Slow An' Easy
Danny Vaughn, Tyketto
Whisper a Prayer for the Dying
Crying in the Rain
Slow an' Easy
Judgment Day
Sweet Talker
Leo Leoni, Gotthard
Soldier of Fortune
Ain't No Love in the Heart of the City
Don't Break My Heart Again
Crying in the Rain
Take Me for a Little While
Michael Erlandsson, Autumn's Child
Burn
Give Me All Your Love
Still of the Night
Love Ain't No Stranger
Give Me More Time
Ronnie Romero, Rainbow
Sailing Ships
Stormbringer
Burn
Ready An' Willing
Soldier of Fortune
Dino Jelusick, Dirty Shirley
Mistreated
Sailing Ships
Slip of the Tongue
Does Anybody Know What Time it is?
Peace Lovin' Man
Toby Hitchcock, Pride of Lions
Fool for Your Loving
Here I Go Again
Is This Love
The Last Note of Freedom
Still of the Night