A quick preview of what's in store for the Purple family on the road in the next year.
Black Country Communion will kick off the new year's proceedings with 2 gigs in the UK: January 2 in Wolverhampton, and January 4 in London. These will be followed by a performance at the Blues Alive at Sea cruise at the end of the month, which has been sold out for months. Glenn Hughes will also do a solo tour in April, going this time to South America and performing Mark III/IV classics.
Ian Paice will continue sporadic performances with tribute band Purpendicular from late January through the end of March.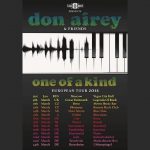 Don Airey will make a special appearance at the Tony Carey's Rainbow Project gig in Russia on January 31 with Doogie White singing. He will then embark on another tour in March, performing a string of European dates apparently in support of his new solo album.
Steve Morse will take part in the original Dixie Dregs lineup reunion. Their extensive tour of the States starts on February 28 in Tampa, Florida, and finishes at the end of April with an encore gig at the band's home town of Atlanta. If you are thinking of going, hurry up – most dates are very close to be sold out.
Ritchie Blackmore will do another string of Rainbow shows in April — two in Russia, plus one in Finland, Germany and Czech Republic each.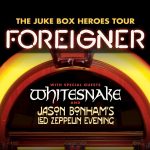 Whitesnake has just announced another massive tour of the States. This will be a packaged affair with Foreigner headlining and David & Co taking middle slot. Jason Bonham's Led Zeppelin Experience will open on all dates. Tickets are already on sale.
Which brings us to the main event. Deep Purple will resume their Long Goodbye Tour in May. There is one very much unconfirmed Mexican festival date on May 4, with more reliable dates in Eastern Europe following at the end of May – early June. Another string of dates is being booked for July, this time mostly outdoor venues and festivals across Western and Northern Europe. New dates continue surfacing on a regular basis.
Thank you to everybody who contributed to The Highways Star throughout the past year. You make this site tick.
All the best, and cheers!