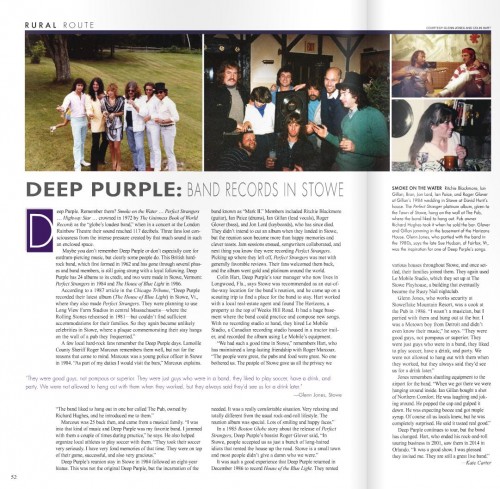 Stowe Guide & Magazine has a short feature on the band's 1980s stay in town in their Summer/Fall 2015 issue. Why this small resort town seemingly in the middle of nowhere, one may ask? The article quotes Roger Glover from a 1985 interview in Boston Globe:
In Stowe, people accepted us as a just of long-haired idiots that rented the house up the road. Stowe is a small town and most people didn't give a damn who we were.
Colin Hart was interviewed for the occasion, as well as some locals:
They were good guys, not pompous or superior. They were just guys who were in a band, they liked to play soccer, have a drink, and party. We were not allowed to hang out when they worked, but they always said they'd see us for a drink later.
Read more in Stowe Guide & Magazine (page 54).
Thanks to Francesco (Deep Purple Italia) for the info.