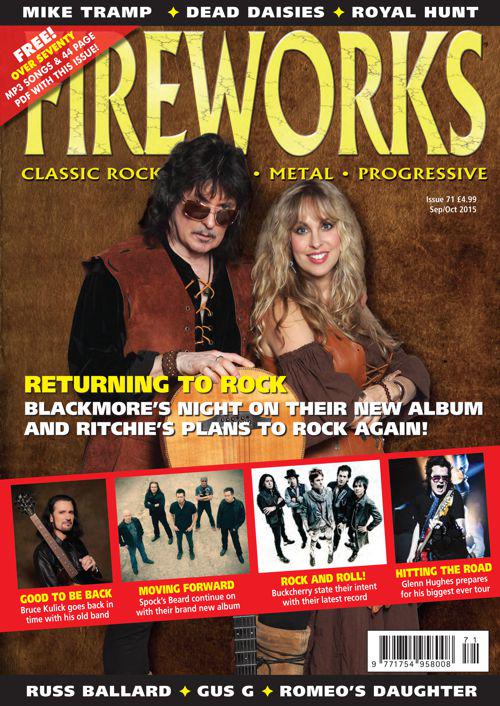 Fireworks magazine has an interview with Blackmore's Night as their cover story for issue 71 (September-October 2015). They talk about their new album, a bit of the past, and at the end, the future.
The story behind Writing On The Wall, which back in the day have caused a raised eyebrow or three:
R: There's quite a few songs, when I look back, that I think we could have done better. 'Writing On The Wall' for definite, that's probably our worst song. I don't know what happened with that one. I think we were in a hurry to get out, left it to Pat and he thought we wanted a disco thing.

I have to say, I do like 'Writing On the Wall', but it's sound is very different to the rest of the album, it sounds a bit at odds with the rest of the material.

R: I think the idea is good, but the finished product is nothing like we wanted. We should do that one again.

C: I think what Ritchie explained to Pat and how Pat interpreted it turned out to be two different things, and at that point we needed to be delivering it to the record label and didn't really have chance to go back and make it what we wanted it to be.
On the planned foray back into rock'n'roll:
However, I'll probably do something next June, doing all the Rainbow and Purple songs for a few nights, maybe four nights. I don't know whether it'll be a festival or what yet, but I'll pick some people to do those old songs and jam some Rock N' Roll, that I would find exciting. I won't know who the singer will be yet for a few weeks. I have a good idea who it is, but I want to try and recreate the sound… there will be a lot of Dio stuff, but he can't be the singer, obviously. That would have been something! I noticed when I wrote the list of songs I wanted to do, it was a lot of Dio stuff. There was some Deep Purple, and probably 'I Surrender' would be in there too, that kind of thing. That's still in the talking process at the moment, but yeah, looking at doing three or four festivals or shows in June. Hopefully somebody will be interested and turn up.
You're not going to tell me who the singer is when you haven't got anything confirmed – is it someone you have worked with before, or somebody new?

R: Somebody new. I like finding new singers, I like to think I've done a good job of that in the past.
This issue of the magazine can be purchased from Rocktopia in both dead tree and paperless incarnations.
Thanks to Yvonne for the info.