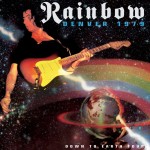 We have received more information from Cleo Records regarding upcoming Rainbow live releases from the 1979 tour. As we've reported previously, the Denver show will come out on vinyl on May 12. This will be the first of the three releases, followed by the show from Long Island, November 30, 1979, and Chicago, October 12.
The Long Island vinyl release is pencilled in for September. A 3CD box containing all three shows should come out around the same time. Chicago vinyl will appear later on.
These soundboard recordings were widely bootlegged, but Cleo's releases are the first ones properly licensed from Blackmore. Unfortunately, they could not obtain the master tapes, so the audio is "remastered from the best sources that we could find".
Thanks to Matt Green for the info.