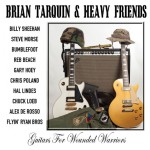 Steve Morse has contributed a track to the tribute album dedicated to the veterans of American wars. The album, called Guitars For Wounded Warriors, was produced, engineered and composed by Emmy Award winner Brian Tarquin, with contributions from SM, Billy Sheehan, Gary Hoey, Ron "Bumblefoot" Thal, Reb Beach, Hal Lindes (Dire Straits), Chris Poland (Megadeth), and Chuck Loeb.
Steve says:
It is an honor to be a part of this cause. I was just turning drafting age at the end of the Vietnam War, and I still remember that the returning military weren't always treated with the greatest respect. For our modern, volunteer military, we hopefully have learned to show our respect and gratitude. They don't set the policy, but they set the standards.
His contribution appears on the final track of the album called Freedom.
Guitars For Wounded Warriors will be released on August 19 via Cleopatra Records.
Thanks to Blabbermouth for the info.