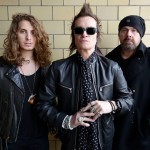 Glenn Hughes is continuing the promo blitz for California Breed, and this time he spoke to Led Zeppelin fansite Tight But Loose (the connection being, obviously, Bonham Jr.):
Jason's got stuff going on this summer and I'm doing some things with Kings Of Chaos and maybe some acoustic shows. Andrew is also finishing off a project he's involved with. So everything is clear from mid September – so then well get together in LA and rehearse and then we will come over to Europe. The tour is being booked by the end of April so we will know when we are starting out. I think this year will just be Europe, though there might be some dates in Japan as well.
Read more in Tight But Loose.
Thanks to Classic Rock for the info.