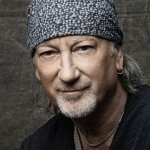 A message from Roger Glover:
It's fifteen months since that day in the studio when we heard the bad news about Jon. Strangely enough, although he left the band eleven years ago, his presence in the band has deepened since last year. Apart from the fact that his spirit seemed to pervade the recording sessions and that Now What?! is dedicated to him, these days an interview never goes by without one or all of us talking about him. Above And Beyond, a paean to Jon, is being released as a single and every time I hear it or play it, my mind is full of great memories.

From an inspired idea by Steve, it grew into a most unusual song, unlike anything we've done before. Writing about the death of a friend can be a minefield of cliché or maudlin sentiment, but I'm proud of what we accomplished with the song.

Now looking forward to the British dates and the rest of the tour around Europe and on.
Thanks to BraveWords for the info.