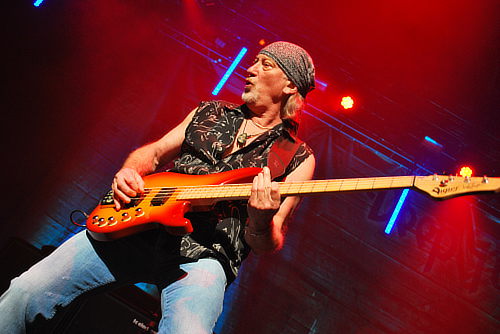 Roger Glover posted this on the band's official Facebook page. As Facebook does not seem to provide permalinks, we take the liberty to reproduce it in full here:
A whirlwind two weeks; from great gigs in Luxembourg to Antwerp to the emotion, tears of joy and sadness at London's Royal Albert Hall and the next morning, as if anticipating the rising sun, flying to Kleine Scheidegg at the crack of dawn to perform before a partying crowd up a snowy Swiss mountainside.

Then suddenly, the following morning, we were on a thirteen hour flight to Japan – time to catch a little sleep. It doesn't always work out that way, I didn't sleep much on the plane; the events of the last few days buzzing round my head, especially the Albert Hall Concert for Jon. It was a most memorable evening, meeting tons of old friends, making new ones, and seeing great performances… a fitting tribute to a great man, whose music, especially the song Pictured Within, never fails to touch my soul.

Fighting jet-lag, or maybe life-lag, or probably both, we started the Japanese dates in Nagoya. We were moved to see the officially seated crowd stand for the entire show and give us a lovely welcome. A wonderful start to the tour. Osaka was just the same. We're on a roll.

A day off in Tokyo. Our dear friend and promoter, the legendary Mr. Udo, was his usual gracious self, a true gentleman. After a delicious dinner with him, some of us joined the crew at the Hard Rock to celebrate Mickey Lee Soule's retirement. He's been my bass tech for many years but I've known him since working with Elf (Ronnie and Mickey Lee wrote all the songs) in 1972, when we all lived on a different planet.

So to the final concert at the Budokan, a special place. The audience knocked me out. o stand on stage, to see and feel the electricity coming from the crowd, is a rare privilege. All three concerts were superb and I left Japan flying higher than the plane. The Tokyo concert was filmed and will be released one day, no date yet.

And now what, you might ask? At this point in life I don't want to wait another eight years before the next album, none of us do. The good experience that came from the recording of NW?! is something that has whetted our appetites for doing another one with Bob Ezrin. We will have a writing/jamming session very soon.

Big thanks go out to Udo Artists, earMUSIC, JVC, our Japanese record company, and all the people that came to our shows.

Good luck,

RG
Thanks to Andrey Gusenkov for the info.