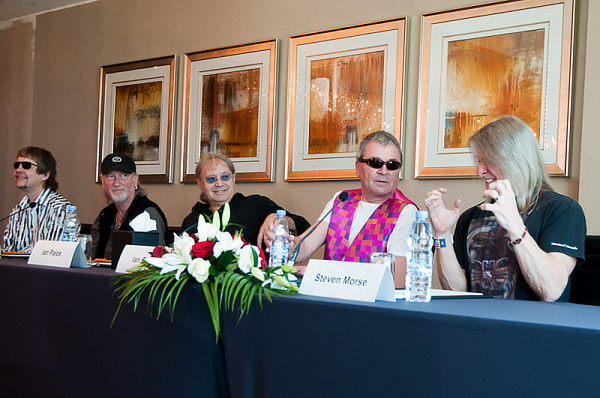 Deep Purple gave a press conference in Dubai ahead of the first show of the tour. Looks like everybody had a lot of fun, however only Ian Gillan's answers were published.
On the favourite song to perform:
No. The show is an entity and it goes from one thing to another. They all have dynamics, and if you had a favourite, song, the rest would become less important. They are all important and they all present different challenges. It's quite important to realise the joy of performing embraces in part the joy of listening, so an awful lot of my enjoyment comes from what the other guys in the band do. I like that awesome identity that Purple has. You're a very small part of that. I get off on what the other guys do. Sometimes on certain evenings, a slow song, like Maybe I'm A Leo, because the groove is perfect and it's the most understated song of the whole evening, will be my favourite. It changes.

I think the songs that we do present different personal feelings. So ok if you want me to choose one, Maybe I'm A Leo is my favourite. Mind you if you ask me tomorrow I'll give you a different answer.
Read more in Gulf News. Watch the slightly expanded version. And check out the photo coverage.
Thanks to Yvonne Osthausen for the info.