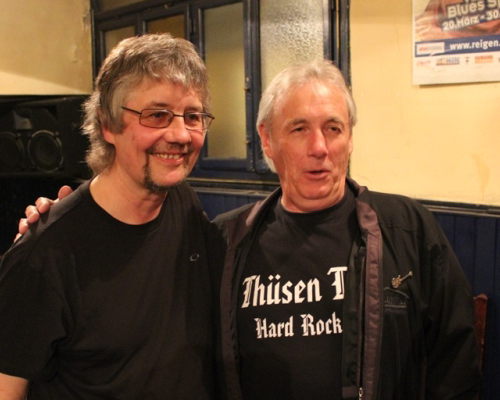 Today, March 11, and tomorrow, March 12, Nick Simper and Don Airey will repeat their 2012 double bill appearance by sharing the stage in Russia. Yesterday Simper attended a press conference in Moscow (Airey didn't make it as his plane wasn't scheduled to land until midnight). Andrey Gusenkov shared the highlights on deep-purple.ru:
Nick said that he never announced a "farewell tour" [as some reports suggested before his shows with Nasty Habits in 2013 — ed.];
he is not in touch with any other Deep Purple members, past or present;
he was not invited to take part in Jon Lord memorial show at the Royal Albert Hall last April;
he has no idea of Rod Evans' whereabouts.
On a more personal note, the local press also reported that he is living in Buckinghamshire, happily married, with four children (three daughters and a son), and five grandchildren.
[Update] Video from the press conference, with above points somewhat expanded and complete with the bits lost in double translation:




Thanks to Andrey Gusenkov (deep-purple.ru) and tass.ru for the info, and to News-w.org (via Vladimir Drybushchak) for the videos.