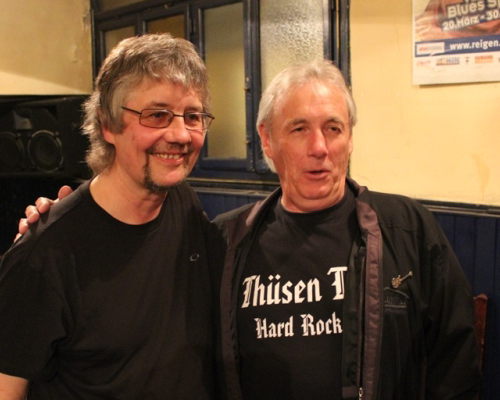 On September 21, 2012, a very special double header happened at the Reigen in Vienna, Austria — Nick Simper & Nasty Habits and Don Airey Band were performing on the same stage.
Nick Simper opened the night with Nasty Habits. Their setlist:
And The Address
The Painter
Mandrake Root
Emmaretta/Drum Solo
Chasing Shadows
Lalena
Wring That Neck
The Bird Has Flown
Slinky
Why Didn`t Rosemary
Roadhouse Blues
Please Don`t Go
Hush
The Nasty Habits are:
Peter Brkusic – Drums
Christian Heissenberger – Guitar
Christian Schmid – Vocals
Helmut Puschacher – Keyboards
Don Airey Band setlist:
Spotlight Kid
People In Your Head
Shooting Star
Still Of The Night
Weissheim
The Way I Feel Inside
Tribute To Jon Lord & Gary Moore
Fire
Wrath Of Thor
Tobruk
Is This Love
Over The Rainbow
All Night Long
Lost In Hollywood
Since You've Been Gone
Black Night
Don Airey Band:
Don Airey – Keyboards
Carl Sentance – Vocals
Rob Harris – Guitar
Tim Brown – Drums
Alex Meadows – Bass
Thanks to Christian Schoen for the info and pictures.