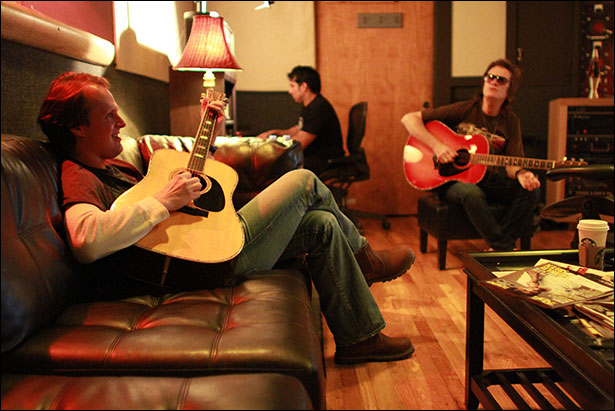 The upcoming Black Country Communion's new album might be the band's afterglow indeed. Glenn Hughes has voiced his dissatisfaction with the state of affairs in an interview to ABC News Radio:
This may be the [band's] last album. I hate to break it to you, but it just may be, because I need to be in a band that tours on a regular basis.
He went on to explain that due to Bonamassa's own heavy solo touring commitments, BCC has no solid plans to hit the road in support of Afterglow:
If I had a magic wand, I would wave it over everybody's head and go, 'Hey, you guys, we're gonna go and do 200 shows [in 2013] and we're gonna be a huge rock 'n' roll band globally. It's not gonna happen.
I figured that if this was to be the last album…then I need to come in with some pretty wild and epic tracks. So, I'm really proud of this album.
Apparently, Glenn sees his post-BCC future in connection with the Kings of Chaos project — Joe Elliott (Def Leppard) on vocals; with Duff McKagan on bass and Matt Sorum on drums (both of the Guns N' Roses fame); and Steve Stevens (Billy Idol) on guitar. They have contributed Never Before to the ReMachined tribute album (albeit separately from Glenn) and have toured together with him in the Rock'N'Roll AllStars package:
[Kings of Chaos will] tour pockets of the world — the exotics, if you will, and the tropics and even America.
We're gonna do a series of EPs. On those EPs there will be three covers and one original song. And…the lineups with the Kings of Chaos, vocally, will change. The core band will be the same. So, it's gonna be always moving and changing.
Joe Bonamassa responded with a message posted on his forum (registration required to view the original):
I think this is unnecessary drama and a wind up by the Voice of Rock… I also think the conversation should be redirected to the band's history as well as its the future that includes a record release in October.. I have said it here before I do not appreciate being cited as the reason of the bands lack of touring or the bands lack of future in this manner. I am 1/5th of this entity that is all. Kevin is family to me, Jason is a dear friend of mine, so is Derek as is Glenn.. Glenn is free and with MY FULL BLESSING to ring up one or all of his famous guitar player friends and take it out on the road BB King style.. Chickenfoot does it with Chad Smith while he is out with the Red Hot Chili Peppers. I hope for everyones sake that as Glenn embarks on the press tour for "AfterGlow" that he doesn't taint in his own words " His Masterpiece" by dragging us all into a TMZ moment..
What more can I say other at this point..
Thanks to Yvonne Osthausen and Daniel Bengtsson for the info.