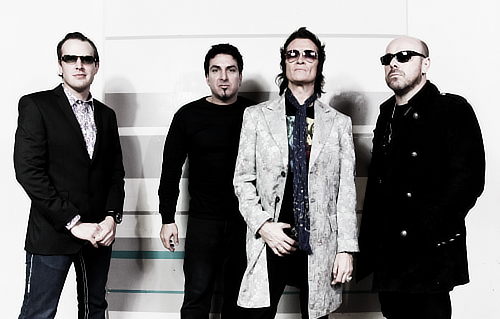 More dirty laundry is being aired in the Black Country Communion camp. Joe Bonamassa spoke to the Music Radar and made his frustrations public:
The state of things is the same as it was a month ago. You know, if everybody gets on the phone or gets in a room – and most likely it's going to have to be me and Glenn to hash this thing out – then I don't rule out ever doing it again. At all. I'm actually particularly proud of this facet of my career. I just rule out doing it in the short term and next year, because at the end of the day, I'm not going to be bullied into doing something that was never on the table from day one because some cat changes his mind and figures out that it's the best thing he's got going on – thus it's going to drag us all into it. That's not fair. It's not fair to me.
Meanwhile, Bonamassa's manager Roy Weisman takes responsibility for the decision to cancel Wolverhampton gig in January:
When BCC was created almost three years ago, everyone knew Joe had a full-time solo career. This project was 'modern Travelling Wilburys,' bringing four individual artists with their own careers together to make a great record.

Both Joe and I were always above board about the touring. It was always meant to be from time to time. However, especially with Glenn, this idea seemed to go in one ear and out the other. His manager always knew the deal, even though Glenn wouldn't stop pressing on the point.

The fact is, Joe's solo career takes precedence over BCC, and always has. Everyone has known that from day one.

When Glenn started speaking about Joe the way he was in the press, revising history on the spot, it became overwhelming. It got to a tipping-point where it was no longer comfortable for either Joe or I to want to Wolverhampton.

In the end I am the one – not Joe – who made the decision to cancel Wolverhampton. So there it is. All fingers can point to me!
Bonham Jr. also chimed in and he is frustrated about the lack of touring as well:
When I started this project I didn't know what we were doing. As it took off I thought we were bound to start working more. I'm not blaming anybody in particular – but we should tour. I love everyone in the band and I'd love to take it on the road. Certain powers-that-be are holding us back.

All I know is, when we did the album there was talk of touring to promote it. I thought there would be.

I can go on the internet and I can see Joe's schedule – he's booked up throughout the whole year. So I felt: what was the rush to start the album when we did? Surely we should have done it when we had time, and Joe had time, to promote it?

It's very fucking frustrating: I absolutely adore Joe to bits. He's one of the best guitar players around. But I just wish we could tour.

I know he's busy; I get it, I do get it. But Glenn, myself and Derek Sherinian, we'd love to tour. Maybe we'll figure out some way to do it. Who knows? I just hope we can work something out.
Sources: Classic Rock (here, here, and here) and Music Radar.