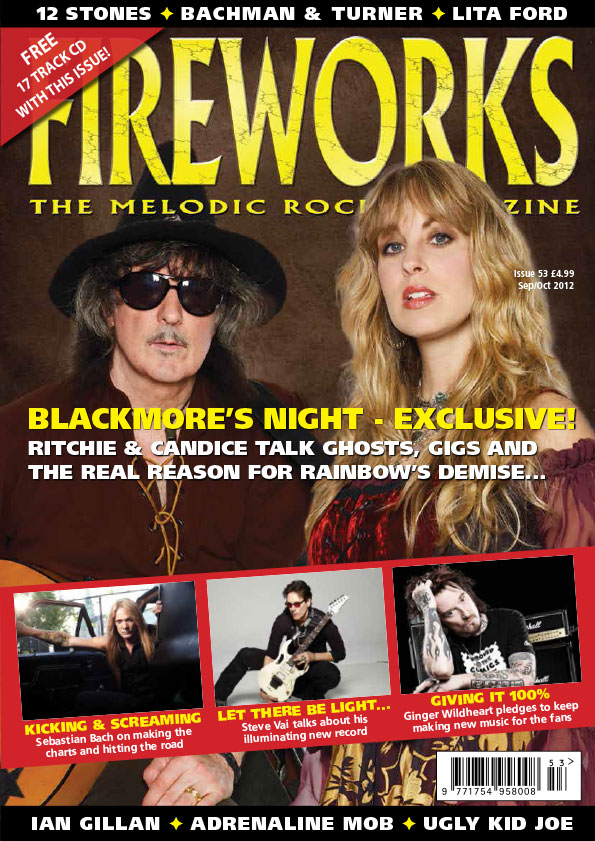 The Fireworks Magazine features several members of the family in Issue 53 (out now).
In the five page spread, Ritchie and Candice discuss their new DVD A Knight In York, the supernatural, the origins of Blackmore's Night, some of Ritchie's favourite practical jokes and, for the first time, reveal the true reason for Rainbow splitting up.
I loved the DVD Ritchie, not only is it a really good show, but I was there in person when you filmed it so it brought back great memories. I thought it was absolutely superb. Was it one of the best shows of the tour?

R: I think it was a good, average show – considering that whenever you make plans to record a show something invariably goes wrong and it turns into a disaster. I was pretty happy with how we played. There were a few mistakes, but that is normal. I was quite pleased with it. The night before, two nights before, we were in the most wonderful castle in Germany but it rained. That was originally where we planned to record it, so we would have the video of the castle, but it's a good job we changed our minds the week before. We were having problems with the promoter, it started a couple of months before we did a show in Germany. We saw the ticket prices and we said it was too much money for people to pay. We complained about the prices being too high and that led to all sorts of confusion and people getting annoyed, saying it was a typical price. We said we weren't going to play for that, so in the end things started getting given away at the show like medallions and merchandise. So planning to record there and then having things like that, we said "You know what? We'll do it in England."
Also on page 80 of the magazine are interviews with Ian Gillan, who talks about the Who Cares album with Tony Iommi, and a chat with Nick Simper, who talks about Nasty Habits.
Read a longer extract from the Blackmore's Night interview and learn where to get the printed copy here.
Thanks to James Gaden for the info.