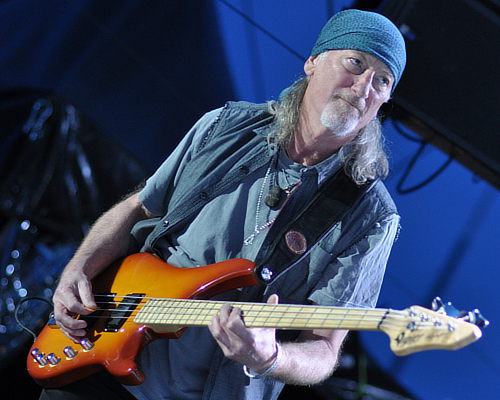 Brave Words & Bloody Knuckles has a new interview with Roger Glover conducted by Martin Popoff. It covers a lot of ground, digging deep into the roots, surfacing for some Purple air, and soaring up to his new solo album. Two words come to mind when reading Roger's interviews: eloquent and insightful.
Wishing to steer away from the heavy stuff so early in our chat, I wanted to know where this roots rock inclination came from. There's always been a southern rock and Little Feat and Bob Dylan vibe to Roger, on the side of 'Highway Star' and the man's so-called "teenaged eighth notes." Why?

I think it probably started off with Lonnie Donegan, and the introduction of American music. I mean, I probably heard American music in terms of Johnnie Ray and Frank Sinatra and the big bands and so on, when I was a kid, but skiffle music was different. What went before was so boring to me, and yet skiffle music had such vibrancy and such reality and was so earthy, from the players, the performances, down to the meanings behind the songs. A lot of the songs were blues and gospel because the words have meaning. Whereas, 'Oh baby I love you' has no meaning. Well, maybe it does, but it depends on the context. The thing about country and western music is that they actually are so sincere, you believe it (laughs). 'Oh baby I love you, want you to come back, the kitchen needs washing.' Or words to that effect. But songs that mean something, I suppose, and of course rock 'n' roll blew everyone away, including me. I'm quite proud of the fact that I remember the world before rock 'n' roll music, because it was a totally different world. And then when rock music kind of freed performers up to really express themselves, when Little Richard screamed, it was real, it was an emotional sound. It wasn't the controlled Johnnie Ray sigh or Frank Sinatra, you know, breathing, very controlled. And very well, I'm a big Frank Sinatra fan, don't get me wrong. But Little Richard and Chuck Berry… oomph! They did the same thing in music then as Jimi Hendrix and Cream did later on. It freed music from the bounds of what had come before. And there are classical versions of the same thing; all the musicians that suddenly found discordance in music. You know, Stravinsky was booed off stage, and yet it's some of the most fabulous pieces of music you'll ever hear. So a new sense of freedom is what I was looking for. All music is all music to me. Doesn't matter what style. The simple answer to your question.
Read more on BraveWords.com.