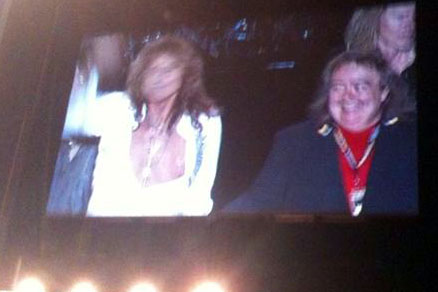 Bernie Marsden (right) and Arian Vandenberg (background) performed onstage with Whitesnake at Sweden Rock Festival tonight.
This is the news fresh in from The Highway Star's on-site reporter Svante Axbacke, tweeting from the festival site.
'He helped me start this band,' David Coverdale said about Bernie Marsden, and the two hugged and played Ain't No Love In The Heart Of The City with Marsden taking the second solo after Reb Beach took the first.
Marsden also performed Fool For Your Loving with Whitesnake – though without trying to upstage Coverdale's young guns at the edge of the stage.
'Please say hello to my Dutch brother,' said David Coverdale to welcome Adrian Vandenberg to the stage. With four guitarists – current players Doug Aldrich and Reb Beach with both guests, Whitesnake closed their main set with Here I Go Again.
For the encores both guests came back onstage and did Still Of The Night.
Follow The Highway Star's tweets live on twitter.com/highwaystarcom