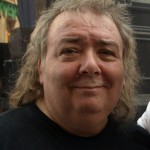 Gibson.com has an interview with Bernie Marsden, in which he reveals that he's finishing a solo album and how quite a star studded it is turning to be:
Who else is on the album?

David Coverdale has graciously sung a song for me, which is, of course, fantastic. We've re-recorded "Trouble" from our Whitesnake days – it was one of the first songs we ever wrote together, and it's the first time we've recorded together in 30-odd years. David is singing as well as ever. Obviously, I've guested on some Whitesnake shows in the last few years too, so we're like an old couple now. It's just nice to be able to talk and play together as friends again.

Do you have good memories of Whitesnake?

My whole Whitesnake era was fantastic, when I look back. Even though David went off and formed the "American" Whitesnake, they re-recorded "Here I Go Again" [a Marsden co-write] which went to Number 1, so I can't complain. I don't have any resentment about that at all.

And I can still go out and play with Whitesnake. The U.K tour [May 2013] with Journey was fantastic fun. Getting to hang out with David Coverdale and Neal Schon on the same gig: how bad is that?

Is the album finished?

Nearly. Joe Bonamassa and Steve Lukather have still got to complete their guitar parts for my album. But Ian Paice [Deep Purple, Whitesnake drummer] and Don Airey [Rainbow, Whitesnake keyboardist] are also playing on it. And the harmonica player Mark Feltham [Nine Below Zero, Oasis, Gary Moore, many others]. So I've pulled in a few favors. But it's sounding great. It harks back to Whitesnake, but with a contemporary feel.
Read more on Gibson.com