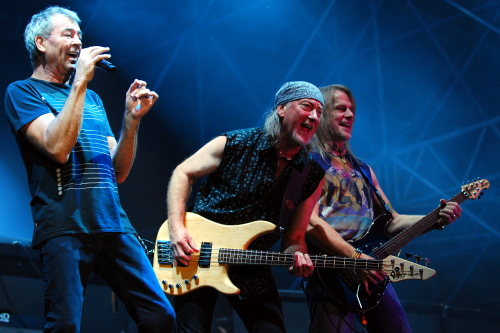 In the anticipation of the Birmingham and London dates, Times Online has published a brilliantly eloquent piece on Deep Purple that surely will resonate in one a many hearts:
The exact date has long been wiped from the memory's hard drive, but I can say with absolute certainty that it was a February evening in 1977. I was coming to the entirely amicable end of a three-year relationship and was on the lookout for a new romance.

It was my best mate Rob who introduced us and it was in his house that night that I found lasting love. It was a passion that was to burn brightly through the next six years and then, when I was older and thought we had both moved on, to reignite when fate threw us together again in the early 1990s. And even today the memory of the relationship still brings a nostalgic smile to my nearly 50-year-old features. It was the night I first heard Deep Purple.

Is there any love that burns more brightly than that between a teenage boy and his favourite rock group? From the moment that Ian Paice's deceptively funky cymbals counted in Ritchie Blackmore's ear-syringing guitar riff and Woman from Tokyo thundered out of the speakers, I was completely smitten. There was no way I was going to slink back to the doomed thing with Emerson Lake and Palmer.
Read more at Times Online.
Thanks to Stathis Panagiotopoulos for the info.