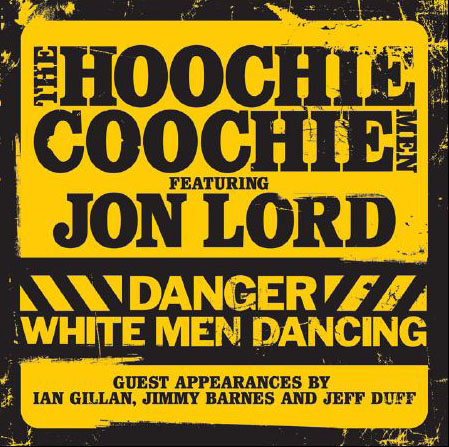 The new blues album by The Hoochie Coochie Men and Jon Lord titled "Danger: White Men Dancing" will be released on October 1, 2007 on Edel Records. A special limited edition version with a DVD will also be available. The album will be distributed in the UK through Pinnacle.
Catalogue number: 0184622ERE
Special Edition CD + DVD: 0184628ERE
The Hoochie Coochie Men, named after the Willie Dixon song "I'm Your Hoochie Coochie Man", are Tim Gaze on lead vocals and guitar, Rob Grosser on drums, Jim Conway on harmonica and Bob Daisley (Rainbow, Ozzy Osbourne, Gary Moore) on bass.
Daisley, Gaze and Grosser began writing the material at Rob's studio Disgracelands at the end of 2005, and continued writing, arranging and recording throughout 2006, with Grosser as engineer, Daisley as producer and mixing by Steve Scanlon in Melbourne. Jon Lord's keyboard parts were recorded at Olympic Studios, Barnes, with engineer Darren Schneider from the U.S.
The album also features guest vocals from Ian Gillan, Jimmy Barnes and Jeff Duff, and is the second Hoochie Coochie Men album that Jon Lord has featured on.
Thanks to The Publicity Connection for the info.