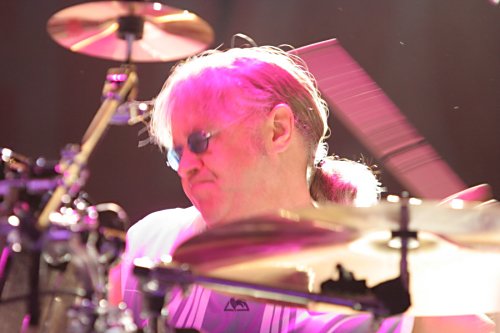 Ian Paice will be doing several gigs in June:
June 9 – Agriturismo Amicizia, Cassano Murge (Bari), Italy, with Deeper
June 16 – Festa d'Estate, Vascon (Treviso), Italy, with Tolo Marton
June 22 – Open Air Montecarasso, Canton Ticino, Switzerland, with Matt Filippini Band and special guest Neil Otupacca (ex Gotthard)
June 28 – Cortile del Maglio, Arsenale della Pace, Turin, Italy, with Matt Filippini Band
June 29 – Muntodenfest (Beer Fest), Montodine (Cremona), Italy, with Matt Filippini Band, free entrance show
In other news, by all accounts his gig on June 3 in Belgorod, Russia, was a success. He played with a local Lee Joe Band in front a very enthusiastic audience of several hundred. The set list was:
Highway Star
Strange Brew
Fire
Badge
Soul Mover
Little Wind
Get It On
Foxy Lady
I Like Rock
Holy Man ' High Road
Blues Power
Born To Be Wild
Sweet Girl
Woman From Tokyo
Smoke On The Water
Hush
The gig was professionally filmed, so there's is hope for a DVD.
Thanks to Matt Filippini, Francesco and Uncle G/Russian Forum for the info.