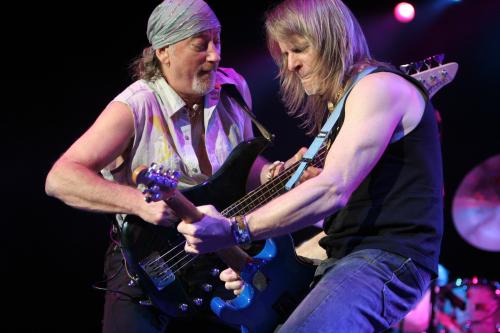 Marking the end of the French leg of the tour, both Steve Morse and Roger Glover have published their regular messages for the fans. Steve's notes from the road discuss the perils of international travel, French cuisine and being an opening act. Of particular interest is this passage about French audiences, which I'm sure to pour some new flammables on the old setlist debate:
All the crowds have been a treat for me. They have all heard Smoke on the Water, but not so many of the other tunes, so it works to our advantage with the new stuff. They enjoy it because they don't know or care if it's new or old, they just listen and enjoy. The quiet improv parts are especially fun, since there's zero chance of getting the one guy who yells out…..they just don't do it. They listen, and if they're moved by it, spontaneously applaud. Everyone knows the tried and true devices for forcing an audience to applaud, but I really enjoy that unplanned kind of spontaneity when the crowd decides in the middle of a phrase that it's a good time to clap. Anyway, the music will always be the highlight of touring, for me.
Read Steve's notes from the road.
Roger in his message gives an update of the studio work he did between the tours: working with his daughter Gillian, mixing Dream Theater's take on Made in Japan and progress of the his new solo album. Short and sweet, there it is.