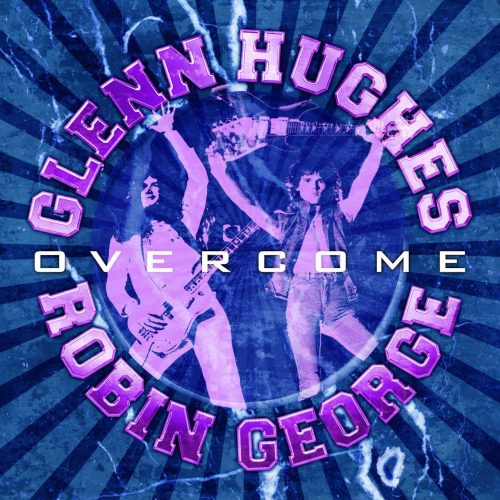 Cherry Red Records is releasing on November 24, 2023, a Glenn Hughes and Robin George collaboration album Overcome, originally recorded back in 1989.
A chance meeting between Glenn Hughes and Robin George eventually resulted in an invitation for Glenn to sing backing vocals for Robin and Sean Harris' Notorious album, which lead to a full collaboration between Robin and Glenn. The album started life as a solo Robin George record and developed into 'Overcome', complete with four songs co-written by the pair; 'Number One', 'Sweet Revenge', 'Don't Come Crying', and the title track.

Such was the faith and strength in the new recordings, that a major label deal was struck but fell through, leaving these recordings to languish in the vaults. Glenn is on fine form on the album, and among the 13 tracks of melodic, and occasionally funky, hard rock, one special treat is the track 'Haunted', essentially recorded by a reformed Trapeze, featuring Dave Holland, Mel Galley and Terry Rowley.
Over the years, Robin George has collaborated with many musical legends, from Led Zeppelin's Robert Plant, Thin Lizzy's Philip Lynott, Uriah Heep's David Byron, UFO's Pete Way, John Wetton & Asia, Daniel Boone, Raymond Froggatt and the Quireboys' Spike. As a native of Wolverhampton, it's no surprise that a musician of Robin George's caliber would cross paths with local heroes Trapeze.
Track listing:
Flying
Overcome
I Want
Haunted (featuring Trapeze's Dave Holland, Mel Galley & Terry Rowley)
Number One
Sweet Revenge
The American Way
Machine
Steal My Heart
Things Have Gotta Change
Don't Come Crying
Loving You
War Dance
The album can be pre-ordered via the label.
Thanks to BraveWords for the info.