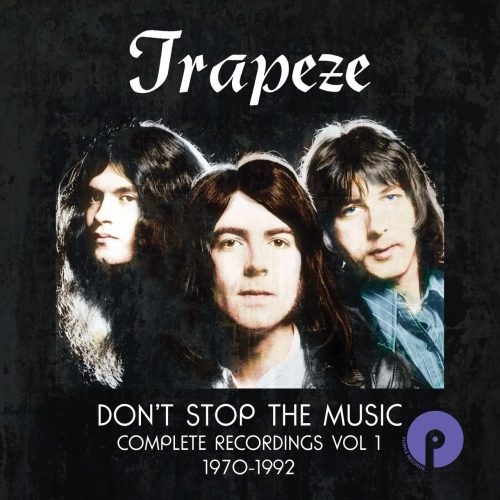 Cherry Red records in the UK (which apparently is now the home of Purple Records imprint) is releasing a 6CD Trapeze box set on February 24, 2023. The set consists of the first three Trapeze albums circa 1970-72, recorded for the Threshold label, a previously unreleased 1973 live set recorded in Dallas, Texas, along with the London Borderline show from 1992.
There is no word if the original albums are remastered in any way.
Track Listing:
DISC ONE
TRAPEZE (1970)
It's Only A Dream
The Giant's Dead Hoorah!
Over
Nancy Gray
Medley: Fairytale/Verily Verily/Fairytale
It's My Life
Am I
Suicide
Wings
Another Day
Send Me No More Letters
It's Only A Dream
DISC TWO
MEDUSA (1970)
Black Cloud
Jury
Your Love Is Alright
Touch My Life
Seafull
Makes You Wanna Cry
Medusa
DISC THREE
YOU ARE THE MUSIC… WE'RE JUST THE BAND (1972)
Keepin' Time
Coast To Coast
What Is A Woman's Role
Way Back To The Bone
Feelin' So Much Better Now
Will Our Love End
Loser
You Are The Music
DISC FOUR
LIVE IN DALLAS – PART 1 (1973)
Recorded live at the Majestic Theatre, Dallas, Texas, USA, 27th April 1973
Previously Unreleased
Way Back To The Bone
You Are The Music
Jury
Seafull
Your Love Is Alright
DISC FIVE
LIVE IN DALLAS – PART 2 (1973)
Medusa
Black Cloud
Keepin' Time
Touch My Life
DISC SIX
WELCOME TO THE REAL WORLD – LIVE (1992)
Recorded live at The Borderline, London, 16th May 1992
You Are The Music
Way Back To The Bone
Welcome To The Real World
Coast To Coast
Midnight Flyer
Homeland
Touch My Life
Your Love Is Alright
Black Cloud
The set can be pre-ordered directly from the label for a rather reasonable sum of £30.99 + shipping.
Thanks to our editor emeritus Benny Holmström for the info.