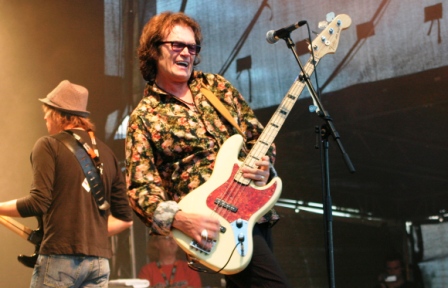 Sanctuary will release a Glenn Hughes anthology compilation titled "Voice of Rock – This Time Around: An Anthology 1970-2007". The two-CD set will have the following release details:
Glenn Hughes
This Time Around: An Anthology 1970-2007
Castle Music
Release Date 27/8/2007
CMEDD1528
5050749 415288
CD
Disc 1 –
Trapeze – Medusa
Trapeze – You Are The Music
Deep Purple – Sail Away
Deep Purple – Holy Man
Deep Purple – You Can't Do It Right
Deep Purple – Gettin' Tighter
L.A. Cut Off
I Found A Woman
Hughes/Thrall – Muscle And Blood
Reach For The Sky
Black Sabbath – No Stranger To Love
So Much Love To Give
Burn (live)
Coast To Coast (live)
Disc 2 –
Coffee And Vanilla
I Don't Want To Live That Way Again
The Way It Is
Curse
Double Life
Midnight Meditated
Can't Stop The Flood
Don't Let It Slip
Secret Life
Dark Star
Soul Mover
Iommi/Hughes – Dopamine
Steppin' On
Justine
This Time Around
Glenn will also appear on "24/7/365 – The Tribute to Led Zeppelin", put together by Quiet Riot drummer Frankie Banali. Glenn is singing on Four Sticks. Also with strong Purple connection, current Whitesnake and ex-Dio guitarist Doug Aldrich contributed guitar on The Wanton Song. The album is due in the US on September 18, on RSM Records (distributed by MVD Entertainment).
Thanks to Sanctuary Group and Blabbermouth.net for the info.