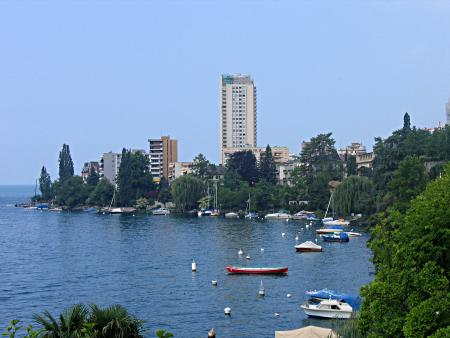 An online lifestyle magazine thrillist has profiled a certain Swiss town with a rich history connected to arts and music — from Lord Byron and Stravinski to Charlie Chaplin and Freddie Mercury. And it starts with a story of Frank Zappa and The Mothers being at the best place around, with a few instances of poetic license.
…If you're familiar with this story, it's possibly because the whole thing is recounted in the lyrics of Deep Purple's 1972 hit "Smoke on the Water": "We all came out to Montreux on the Lake Geneva shoreline," and later, "But some stupid with a flare gun burned the place to the ground." (Learning the intro riff is a rite of passage for beginner musicians to this day.) The band was in town to record their album Machine Head at the Montreux Casino, using a mobile studio they'd borrowed from the Rolling Stones (also mentioned in the song). Forced out of their rooms by the fire, they watched the whole thing go down.

After the fire turned the casino to rubble, Nobs proved himself a hero in more ways than one by helping Deep Purple find a backup recording space. They eventually ended up in the Grand Hotel in Territet, with mattresses padding the walls for soundproofing. It's said that it was here that, recalling the events of the past few days, bassist Roger Glover woke up with the line "smoke on the water" running through his head. And also here that Nobs encouraged them to put the song on their upcoming album, envisioning great things.

The rest, as they say, is history. The casino was rebuilt and re-opened in 1975 (the festival has since spread out over venues, including the 4,000-capacity Auditorium Stravinski and the 2,000-capacity Montreux Jazz Lab, with one-offs at the new casino). "Smoke on the Water" has been covered at the festival by musicians from Santana to Jamie Cullum. And Deep Purple has now played the Montreux Jazz Festival nine times, with almost as many iterations of their hit song. On the festival's 50th anniversary, they performed it with none other than Frank Zappa's son, Dweezil.
Read more in thrillist.