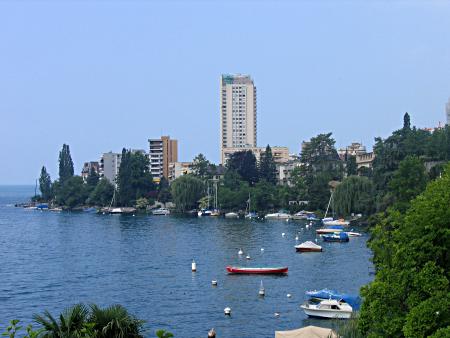 A first hand account of the infamous fire at the Casino de Montreux on December 4, 1971:
I was heavily engrossed in the concert. Frank Zappa was playing again as the drum set had been fixed, and he had written a song about Switzerland, Swiss cheese and all that. Also, he had a large head of a bunny rabbit near the front of the stage (made of plastic or something similar) which in my mind kept on changing into a scary monster. I had taken a strong dose of an illicit drug and was totally engrossed by the show. A few seconds after the fire started my girlfriend said to me ´Peter, there's a fire' and I remember looking behind me and seeing a large ball of flame. Because I was very stoned it LOOKED BEAUTIFUL, perfectly circular and with flames and sparks flying in all directions. I could only see the beauty and not feel the danger! I actually thought that the fire was part of the show!! (Because Frank had such a crazy reputation, I and many other fans too, thought that anything could happen at one of his shows!). Frank Zappa continued playing for a few more seconds and then changed to the song 'FIRE' by Arthur Brown, which had been a big hit in the late 60's. They just played a few bars from that song, and then dropped their instruments and quickly made their way off the stage down a small staircase without having to go into the audience. I seem to remember somebody at the microphone saying 'Don't panic'. In fact nobody did panic because nearly everybody was so stoned that fear didn't kick in and the audience exited in a more or less orderly fashion (like sheep, one following the other)!
Read the whole story in author's blog.
Thanks to Pär Holmgren for the info.