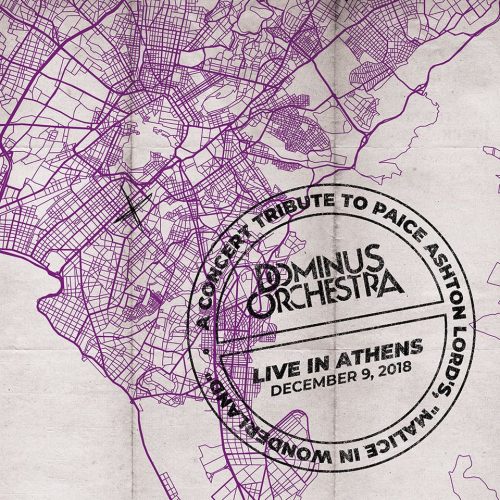 Dominus Orchestra is a project that is a tribute to all things Jon Lord. It is a brainchild of a Greek musician Panos Politis, who plays the Hammond, piano, and other keyboards, and makes the arrangements. Their latest release is a live tribute to Paice Ashton Lord's Malice In Wonderland, recorded in Athens on December 9, 2018.
This release can be ordered by contacting the band at dominusorchestra@gmail.com.
My name is Panos Politis, founder member, pianist and Hammond organist of Dominus. A student of the piano and the theory of music, during the second decade of my life I also became actively involved with rock music, especially that of the British music scene. In particular, I become involved with the music of Jon Lord, playing and promoting both his work as a solo artist and with his bands, notably Deep Purple. The Dominus project began to take shape in 2013 [we've announced it — THS] and brought together the most capable Greek musicians who were willing to support and share in its ideals. It was an enormous challenge. It had to be undertaken with the seriousness and respect, the devotion and dedication that the music deserved. For me, it was a labour of love. The Dominus Orchestra is a versatile band that can adapt from being a basic five-member rock group into an extended band of rock musicians performing with a string chamber orchestra together on the same stage. The Orchestra's premiere took place in 2013, accompanied by an eight-piece string section, when it presented a concert of the music of Jon Lord. Since then, Dominus has performed three more concerts devoted to his music, the last of which was a tribute to the unique album by Paice, Ashton and Lord, 'Malice In Wonderland' in 2018. If you are interested in the music of Jon Lord and Deep Purple, and our tribute to their music, then do please browse our website. Here you will find out more about who we are and what we do, and can keep up to date with the band's latest news. Thank you very much for your time.
And we leave you with a recording of their complete show from 2013:
Thanks to andreas leutgeb for the info.