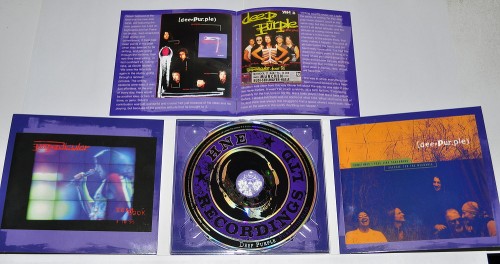 The record company has been kind enough to send us a freebie, so here's a quick review of the Purpendicular reissue.
The new edition comes in a fold out digipak with redesigned booklet. Gone are the lyrics, gone is the foldout. The new booklet is a traditional format, with new liner notes written with the benefit of a hindsight by Malcolm Dome.
Despite the slightly confusing notice "Digital remasters © 1996 Sony Music Entertainment UK Limited", it appears to this pair of ears to be identical to the original master. Not that the original needed any improvement.
Bonus tracks are Don't Hold Your Breath, originally appearing on the Japanese and US editions of the album, and a single 4:35 edit of Sometimes I Feel Like Screaming.
Verdict: the 2014 edition serves single purpose of keeping the album in print. It's probably not worth a purchase if you have the original. Otherwise it's a must have as it is a truly seminal album in Purple history.
Artist: Deep Purple
Album: Purpendicular
Published: 2014
Label: HNE Recordings Ltd. / Cherry Red Records
Catalogue number: HNECD041