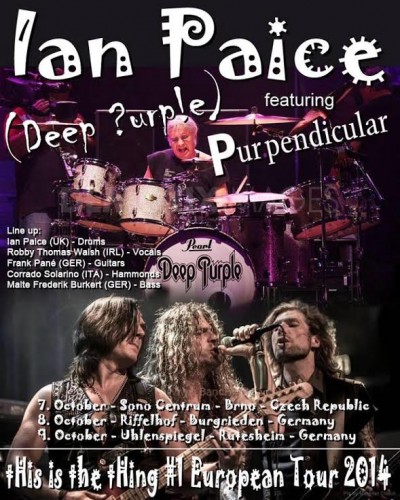 Ian Paice will feature with Purple tribute band Purpendicular on three of their European dates this October. This will be Ian's third stint with the band.
October 7th – Sono Centrum – Brno – Czech Republic
October 8th – Riffelhof – Burgrieden (Ulm) – Germany
October 9th – Uhlenspiegel – Rutesheim (Stuttgart) – Germany
Purpendicular are touring accross Europe in support of their upcoming new album 'tHis is is tHing#1'.
Ian Paice features on the album on a track called 'Somebody Done It', which will most likely get an airing at the shows together with surprises from DP Mk3 and other obscurities.
Purpendicular's album 'tHis is the tHing#1' will also feature Don Airey, Steve Morse, Roger Glover, Ian Paice and Neil Murray.
For more details incl ticket info, please visit: www.purpendicular.eu