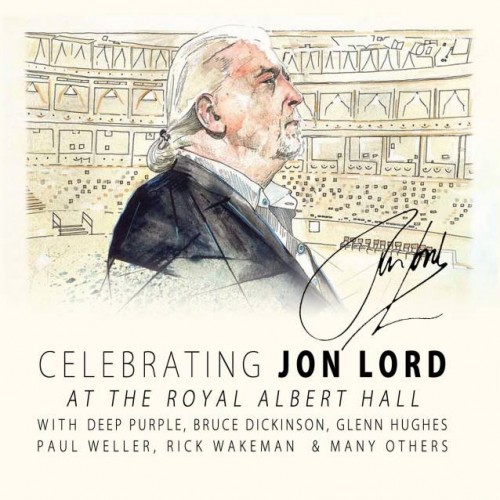 JonLord.org has announced that Jon's memorial show at the Royal Albert Hall in April will be released by Edel/earMusic on September 26, 2014 — the day month of the 45th anniversary of the performance of Jon's Concerto for Group and Orchestra at the same venue.
The set, titled Celebrating Jon Lord, will be released as 2DVD, Blu-Ray, 1CD The Composer, 2CD The Rocker and a box set (presumably comprising of both video and audio).
The Composer set includes Jon's orchestral works performed that night before the intermission, while The Rocker includes Deep Purple's performance on the second disk and everybody else on the first one.
Thanks to JonLord.org and Blabbermouth for the info.
Paul Mann shares his experience on assisting The Sunflower Jam to create and unforgettable evening:
– One of the things that always impressed the orchestras we toured with then was the band's skill as improvisers. Mia Sfura, my fiancée, who as you know played in the Romanian orchestra on the Concerto tour, and who was in the second violins of the Orion orchestra for the concert this year, always says how impressed she was that after thirty performances then [Deep Purple] were still finding something different to play every night.

– Multiply that by the thousands of performances they've done of most of their repertoire and you get an idea how exceptional that aspect of what they do really is. Of course it was one of the most important aspects of Jon's genius, and Don carries that mantle in his own brilliant and unique way.

– This is something which used to be part of every classical musician's training. Bach, Mozart, and Beethoven were all extraordinary improvisers, and every performer of their music was expected to be able to improvise, for example, the concerto cadenzas. But the skill of the creative and re-creative have become largely separated from one another in modern classical musicians, much to their detriment, I think. Another thing we can learn about from rock musicians!
Read about the endless meetings to get the concert off the ground, the agonizing over the setlist, the hectic rehearsals, and much more on JonLord.org.
Errata: originally the article stated that September 26 is the Concerto anniversary. In fact, it is September 24th.