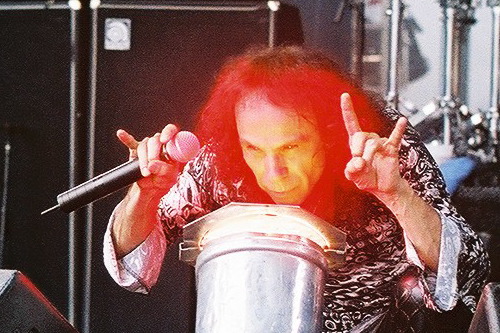 Roger Glover:
A huge part of my life just disappeared. Words are not enough, emotions are too much.

My sincere condolences to Ronnie's family and friends.
Ian Gillan:
My Dear Friend Ronnie,

Departed but not gone. Resting peacefully (for a while) but never forgotten.

I've had a sackful of mail since your passing; a sharing of grief and sorrow.

We all remember your huge voice of course – my ears are still ringing: Your wicked humour and sense of decency: The utter professionalism and personality that inspired so much respect from your friends in music.

The list goes on but the quality that stands out above all others is your enduring generosity. The one thing that we all treasure, the gift you gave us was your kindness.

We all agree you were the kindest man we ever knew.

Catch up later mate,

Cheers, ig
Steve Morse:
Ronnie Dio was a real musician. He was a guy that everybody liked, and always sang loud, in tune, and strong, with that famous voice. I watched him patiently deal with fans at the stage door, and patiently deal with me when I was lucky enough to back him up on our orchestra tour. We backed him up doing a couple of his tunes, and he was tactful and precise with his constructive comments. He could tell if I played one note wrong. I recall him telling me that he used to play trumpet, which might explain his very good ears.

Everybody that ever met him will miss him, as well as anybody who ever heard him sing.
Jon Lord:
I would like, along with my wife and daughters, to express my sadness at the passing of Ronnie Dio.

A friend of many years standing and a truly delightful man. His voice was an instrument of power and of beauty, and was a seminal influence in rock music. His loss is even more devastating when considering how much more he would have had to offer us.

My heart goes out to dear Wendy, and my thoughts are also with Roger and Richie, who were so close to him for so long.

I will always cherish the memories of those remarkable nights at The Royal Albert Hall in September 1999 when, sitting on the stage with all the massed musicians of Deep Purple, The London Symphony Orchestra et al, Ronnie sang Roger's lovely song "Sitting in a Dream" and brought us smiles and tears, and goosebumps as big as they come.

I shall forever connect that song with that moment and with Ronnie.

Rest in peace my friend.

With love
Jon
Ritchie Blackmore:
Ronnie had a unique and wonderful voice. He will be sadly missed in the rock and roll world.
Glenn Hughes:
It is a very sad day today… I have lost a very dear friend.

Ronnie was a true Leader of Heavy Metal… an Icon and a Visionary… there will never be another like him.

Ronnie gave me wisdom, and showed me great compassion when he was in ELF, all those years ago, when we were on tour together in my time in Deep Purple. He was a beautiful Soul, kind, considerate and a wonderful teacher.

Someday I'll be bringing your Microphone up there with me, and we'll sing a song, and share a Vindaloo together…

I'll miss you mate.
David Coverdale:
[I was] so very sad to hear of Ronnie's passing… My thoughts, prayers and condolence to his family and friends.
Joe Lynn Turner:
Ronnie was a true gentleman of rock… always kind and giving. I was proud to know him… everyone he touched was raised higher. His energy and legacy will live on… and I — as a fellow member of Rainbow — will continue to sing his praises and his songs.

May God hold him in his hands… RIP.
Greg Smith:
I have lost someone who I looked up to as a teenager and that person became my good friend. I shared many laughs, stories, drinks and good times with him on and off the road.

Ronnie, I will miss you terribly and always think fondly of the times we spent together and of your tremendous talent.

Till we meet again, my friend!
Bobby Rondinelli:
I was very sad to hear of Ronnie's passing. He was one of the best singers and writers ever, and every time I saw him he was a total gentleman. He will be greatly missed but never forgotten.
Doogie White:
A very great man lost his life [on Sunday].

Ronnie James Dio was one of, if not the greatest singer I ever heard.

I remember trembling when I heard 'Rainbow Rising', such was the passion and energy not only from the band and Ritchie's [Blackmore] guitar but from that voice that shone above all else. He was also a jolly decent chap who had time for all fans come rain, wind or shine.

I first met Ronnie 10 years or so ago and he said, 'Ah! So you are Doogie, I know who you are, but never knew what you looked like. Come in, son and have a glass of wine. Is red okay?' This was backstage at the Wembley Arena. He dedicated 'Man On The Silver Mountain' to me that night, saying 'To my new friend, Doogie. You may have sung it, but I sang it first.'

We met a few times after that and discussed his excitement at doing the TENACIOUS D movie and the loss of his thumb in the bizzare gardening accident. We agreed gardening was the new RnR.

I had a tremendous affection for the man. He was kind, considerate and wonderful fun.

My thoughts at this time go out to Wendy [Ronnie's wife/manager] and to the extended Dio family. You do know how much he was and is loved, for his music, his singing, his humanity.

Catch the rainbow… Ronnie… Catch the rainbow.
Graham Bonnet:
It was a horrible day yesterday. I want to thank him for being a good friend, and drawing the map for me, when I was in doubt of the role I would play in Rainbow. My musical background was so different from his but I listened and learned the way to be a replacement, as such and followed the master of hard rock singing, and the name he used to call me "Gray"…the only American that abbreviated my name that way..it was funny to hear…Thanks Ron !!…and Wendy I know will keep him in her heart forever…My love goes out to him and his family…only one Ronnie!
Paul Mann:
Ronnie had the gift of making those who met him feel, for the time they were with him, as if they were the most important person in the world. His music will long outlive him, and defeat the cruelty of his premature passing. His total commitment as a performer was a massive inspiration. During the concerto shows, I used to retire to the wings to watch his songs with Purple, and in the bar after one particularly emotive night I said to him that as far as I was concerned he could sing excerpts from the telephone directory and turn them into poetry. "Only if I believed in that particular set of numbers", he said.

I will remember his generosity of spirit: I lifted a gift tag on a bouquet of flowers at my grandmother's funeral to see that they were from him. And his sense of humour. He could do a pretty decent Geordie accent. And I still have the bees, and the John Belushi hat and shades.

And that voice…
Steve Morse dedicated his Guitar Parade on May 18th in Seoul to Ronnie's memory: