Deep Purple live at Mahaffey Theater (St. Petersburg, USA 2022-02-12)
My 10th time seeing Deep Purple perform. 1st time in that venue. The theatre hold a litttle over 2000 and appeared to be full. The horseshoe shapes made it so that there wasn't a bad seat in the house and the acoustics were very good. I looked like a much older audience than what I've seen in the Midwest, but I guess that is normal for Florida. But the nice perk of that is that I finally got to sit through an entire concert! My back and knees are thankful.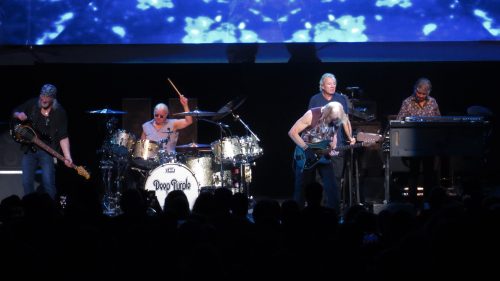 The opening act was The Georgia Thunderbolt, a new southern rock band that just released their 1st album in the fall. They were good with a really good singer and excellent lead guitarist. The singer mentioned before their last song that opening for Deep Purple is the highlight of their career so far. The crowd got into them.
On to Deep Purple. There was no evidene of a two year hiatus. They played with high energy and stellar perfomances from start to finish. They played the same Machinehead heavy set list as the show a couple of nights before. But in addition to Nothing At All, they also played Throw My Bones from Whoosh! Solos by Steve and Don were spectacular on the new songs. The audience sang along to SOTW and Hush as expected, but many also sang along to Throw My Bones. Moving Roger's bass solo before Space Trucking works very well. Caught in the Act leading to Hush has probably the longest encore that I've ever seen. The band's ability to turn on a dime transitioning to new riffs and tempo changes from song to song in the medley was impressive. Afterwards fans were still singing the chorus to Hush as we walked through the lobby.
Who knows if Purple will do another American tour. If so, then I am ready to turn it up to 11.
review by Dr. Bob