Glenn Hughes brings the Purple to Poughkeepsie
Glenn Hughes brought his incredible lung power and bass playing finesse to a small but very appreciative crowd at The Chance in downtown Poughkeepsie, New York last Tuesday September 11th, 2018.
Glenn opened the show with Stormbringer and then settled into a really groovy Might Just Take Your Life. Next up was Sail Away, followed by a great version of You Fool No One with a cameo shot of the Highball Shooter riff teased in near the end of the song.
A beautiful rendition of You Keep on Moving was followed by a really funky Getting Tighter (with a little Dance to the Rock & Roll sprinkled in) which Glenn dedicated to Tommy Bolin. Next up was Mistreated – one of the finest versions I have seen and heard Glenn perform – really nice tasty interplay between he on bass and guitarist Jeff Kolman; and of course Glenn's amazing, stratospheric vocals as usual.
As this was a Deep Purple-flavoured show, albeit mostly Mark III; Glenn closed with Smoke on the Water and added his own twist to it – "Georgia…". For the first encore one of the roadies strapped on Glenn's bass while Glenn came out to do the vocal duties on Highway Star. Even though HS is an Ian Gillan signature song, Glenn did fine justice to it with his amazing vocal range. The final song of the evening was a blazing version of Burn.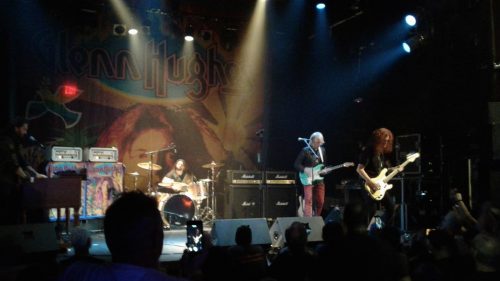 Altogether about an hour and 45 minute show of very high energy, extremely well performed classic Deep Purple Mark III music. I have seen both the current Deep Purple line-up and Ritchie Blackmore's Rainbow in concert this past year, and though both shows were very nicely done and well played; I have to say that Glenn Hughes' Purple show was the rawest, most energetic, and most passionate of the three.
Looking forward to catching Glenn again on his next swing through the USA in the upcoming year. It is well worth making a special trip to see him play.
Gary Halverson, Canada – Sept. 2018