Back in January when the Singapore show was announced I never would have imagined in my wildest dreams that Deep Purple would also stop here in Bangkok. This place is simply not on the major concert circuit. Most acts hit Singapore, Hong Kong and Tokyo during their Asian tours, but Bangkok is usually completely off the radar.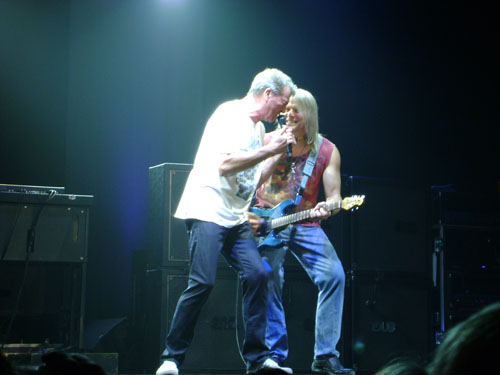 So to my great surprise after having purchased my concert ticket, air tix, etcetera for the Singapore show, about a month later it was announced that the Purple would in fact be coming to Bangkok!!! Being the fanatic I am, I surely could not pass up the chance to see my all-time favourite band in my home town. So out I rushed to the box office and got some great seats for my wife and self right up front and centre, just one row back from the stage.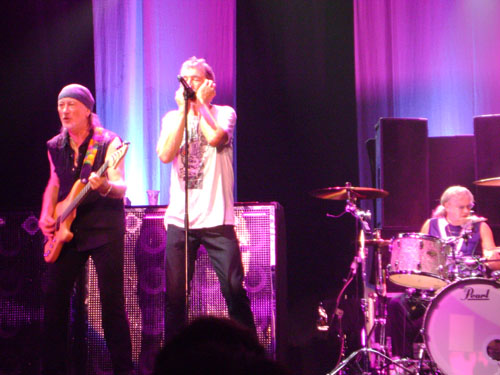 On hand for the event at the Bangkok Thunderdome last Friday night were as I expected, lots of British expats, and once again lots of young fans in their teens and early twenties. I never realized though just how many Thai rockers there are – they made up easily half to two thirds of the crowd. Again this is a testament to the wide appeal of Deep Purple – people of all ages and cultures love this band. Looking around the venue I estimated about 4000 people were in attendance.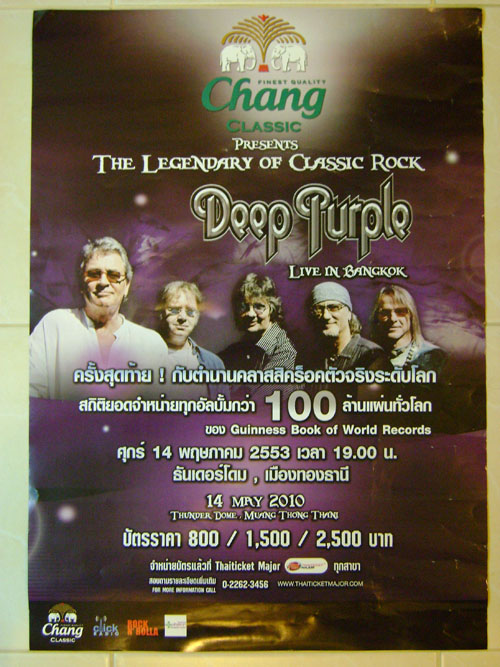 The band started out with another dramatic intro to Highway Star but to my distress everybody remained firmly planted in their chairs. What on earth was going on I thought? And I wondered what the band was making of this – was this just polite Thai reserve? Well I didn't have to fret long as into about the second verse fans from the back reaches of the arena surged forward to the stage, and then like in Singapore the place was just absolutely hopping.
The band went through essentially the same setlist as in Singapore, but in Purple`s inimitable style they made each song unique with different fills and solos. That`s what makes any live experience with this band so rewarding for a fan – the music lives and breathes and never becomes stale – no rote versions here.
More strong performances and smiles all around by Big Ian and company. Even at 64 years old, Ian G. puts in a very energetic performance – he moves all about the stage and can still jump to the music like people half his age.
The sound in the Thunderdome was not as good as in Singapore`s Indoor Stadium, but no one seemed to mind – a good time was held by all – a great response from the crowd through the entire show.
Highlights on this night were Steve`s incredible work on No One Came, the crowd-pleasing Perfect Strangers, the ever-classic Smoke on the Water, and dazzling displays by both Roger and Steve on the encore performance of Black Night.

After a one hour and 45 minute set it was all over. Led by Paicey, the gents came forward and bowed to the audience with the traditional Thai wai.
I had the good fortune of receiving one of the band`s setlists which had been taped to the stage floor. For the encore portion I note that Speed King was listed, however the band did not play it on this night, nor did they in Singapore. No complaints from me though, what Purple did give us all on both nights was 100% full on rock with passion and conviction.
Long May Purple Reign!